Hopewell Culture Prehistoric Paddle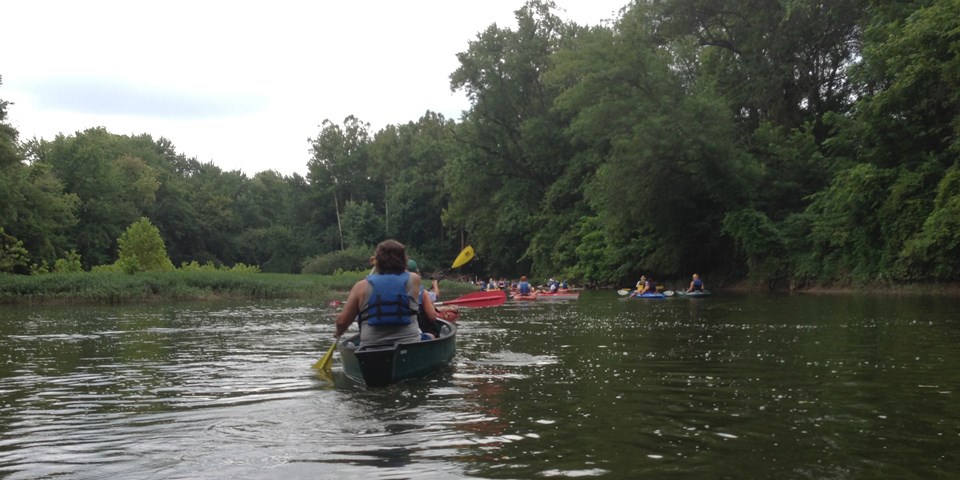 Canoe & Kayak Program
At Hopewell Culture National Historical Park, a new program began in the summer of 2013. The annual Prehistoric Paddle allows visitors to travel in the wake of the Hopewell Indians as they float down the scenic waters of Paint Creek in Ross County, Ohio.

Boaters begin their eight mile journey one mile to the west of Seip Earthworks, the site of the first stop of the day. At Seip Earthworks, boaters make landfall to journey on foot to the 30 foot tall Seip-Pricer Mound. Here they walked in the footsteps of the Hopewell, learning about beautifully crafted artifacts, elaborate burials and the ceremonies that took place at the site over 2,000 years ago.

Departing from the banks of Seip Earthworks, boaters then float to the magnificent Copperas Mountain. At this stop, boaters learn about the geology of the area and viewed the embedded evidence in the mountainside of a Devonian Age sea that tore through the valley over 4 million years ago!

With Copperas Mountain creating a brilliant backdrop, visitors ground their boats and enjoy a sack lunch on the sandy shore and talk with other visitors and rangers. Some are even able to enjoy a quick swim in the cool, calm section of Paint Creek.

Throughout the float, boaters are able to spot residents of the local wildlide community including Great Blue Herons, Ospreys, Kingfishers, Bald Eagles, turtles, fish and many types of mussels. Colorful wildflowers and other natural life that inhabit the area are also witnessed on the journey. Boaters are also enlightened about various earthworks, like Spruce Hill and Baum Earthworks, that reside in the Paint Creek Valley. At some point on each trip, boaters are given an opportunity to learn to hunt like Hopewell Indians as they get a quick lesson on how to use an Atlatl to throw spears. This activity definitely became a favorite for the young paddlers!

Visit the park's Prehistoric Paddle page to find out information about the current offerings for this program. The paddle is normally held every summer, between June and August.
Last updated: May 22, 2018