The Stream By Hoover's Birthplace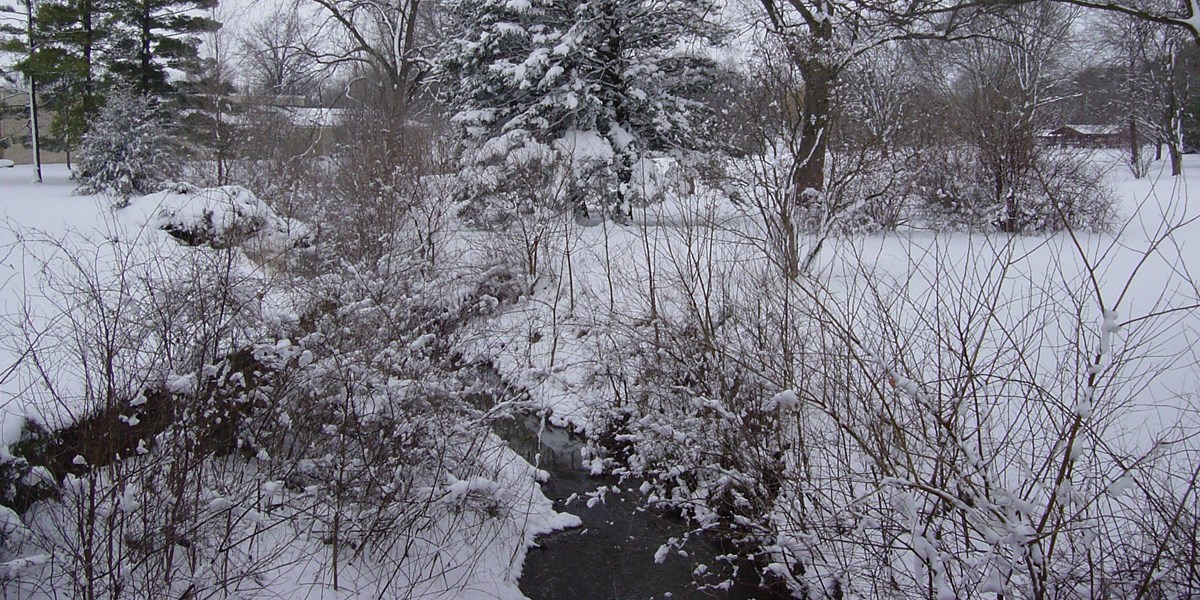 A bridge on Downey Street, just south of President Hoover's birthplace, crosses a tributary of the West Branch of Wapsinonoc Creek. When Herbert Hoover was a boy, it was just an unnamed small stream of water trickling through marshy wetlands. Young Herbert and the neighborhood kids took their willow fishing poles about a quarter mile downstream to catch sunfish and catfish in the main creek.
Bridge On Downey Street
In March 1875, the citizens of West Branch petitioned Cedar County to build "a bridge on Downey Street, near Jesse Hoover's blacksmith shop" so wagons could get across the creek. Twice constructed out of wood, it was finally rebuilt in 1917 as a steel beam and concrete span.
Hoover's Legacy Of Water Conservation
As Commerce Secretary for President Warren Harding and later as President, Herbert Hoover supported several environmental conservation measures, especially in regard to water resources development and fisheries management. Perhaps these viewpoints got their start in a young boy's memories of sun-dappled streams and the joy of exploring with his childhood friends the waters of Wapsinonoc Creek.
Creek Name
The creek did not have a name when Herbert Hoover lived in West Branch, and remained officially unnamed for many decades. The U.S. Geological Survey (USGS) entered the name in its geographic names database in 2010. USGS cited the National Park Service's frequent use of the unofficial name "Hoover Creek" in numerous documents and publications.
Crossing at South Downey Street

The South Downey Street Bridge extends across a tributary of the West Branch of the Wapsinonoc Creek.

Duration:

2 minutes, 1 second

Credit / Author:

NPS

Date created:

2010-06-22
Hoover Fishing Story

Pete Hoover, grandson of the 31st President, recalls lessons learned at his grandfather's side.

Duration:

1 minute, 50 seconds

Credit / Author:

NPS

Date created:

2010-06-22
Last updated: February 9, 2019