Everyone has a different name for them: hobo pies, pie irons, mountain pies, or pudgy pies, but we can all agree they are delicious!  Here is a list of some combinations to try while on your next camping trip.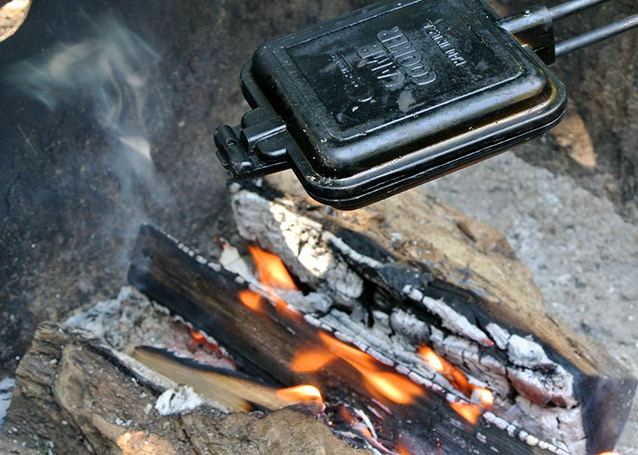 Instructions
What You Will Need
A camping cooking iron (it looks like a small cast iron panini press with a long handle)

Sliced bread

Non-stick spray or butter

Filling of your choice 
How to Make a Hobo Pie
Spray both sides of the iron with a non-stick spray.

Lay a piece of bread on one side, spread on your favorite fillings, put another slice of bread on top, tightly close the iron, trim off excess bread if necessary, and toast it over the fire.

Rotate the iron every minute or so until everything is melted evenly, and the bread is golden brown (about 4 minutes).
Filling Combinations to Try
Sweet
Nutella and banana

Nutella and Marshmallows

Nutella and Strawberries

Peanut Butter and Jelly

Honey and Peanut butter

Apples and Cinnamon Sugar

Apple Butter and Fruit

Any canned pie filling
Savory
Mozzarella Cheese and Pepperoni

Spinach, bacon, feta, mushrooms, and onion

Sausage, scrambled egg, and cheddar cheese

Avocado, scrambled egg, bacon, and tomato

Ham and cheese

Tuna Salad and Cheddar Cheese

Butter, garlic, salt
Last updated: May 16, 2016