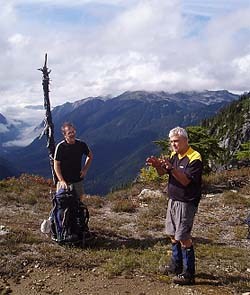 Long before boundaries of national parks were established, Native Americans traveled widely and used many resources found in the mountain ranges of the Pacific Northwest. Archeologists had little information about the sites created by people hunting, harvesting, and camping and decided to survey for sites in the high altitude regions of Olympic, Mount Ranier, and North Cascades National Parks in Washington. Collecting and organizing the data across parks allows collaboration among researchers who can integrate results into a picture of precontact life in the region.

Background
The paucity of information on prehistoric use of sub-alpine and alpine landscapes in the Pacific Northwest reflects the absence of regional archeological data on site distribution, chronology, function, and condition in these habitats. In the absence of these basic data, the effects of visitor use on sites in alpine and sub-alpine areas of national parks remain largely unknown, rendering management decisions poorly informed. Lack of inventory data also confounds attempts to place the parks' archeological records into a regional cultural context, leaving issues of interpretation of ancient uses of mountainous habitats in the Pacific Northwest largely speculative.
To address this gap in knowledge about park resources, archeologists in Olympic (OLYM), Mount Rainier (MORA), and North Cascades (NOCA) National Parks have cooperated to develop and implement an archeological site survey and recording protocol to explore spatial, temporal, and formal aspects of prehistoric archeological sites in three national parks that span the Northwest Coast and Plateau culture areas. Prior to the project, less than 5% of high elevation terrain in the three parks had been surveyed for archeological resources. The multi-park approach allowed the archeologists to:
integrate results into a regional picture of precontact history;
provide collaborative expertise to move the study beyond a single park perspective;
develop common data sets; and
using the archeological record from high elevation settings, contribute new information about the long involvement of indigenous populations with Pacific Northwest montane landscapes.