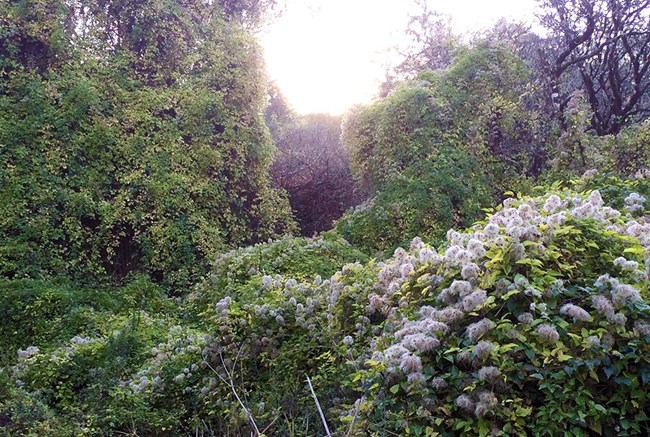 The San Francisco Bay Area Inventory & Monitoring Network's Invasive Species Early Detection Program (ISED) creates lists of invasive plant species to target for early detection. The species are ranked from one (highest priority for early detection) to three (medium priority).
Priority 1 plants

are highly invasive and are typically not widespread. Control or even eradication is often feasible. ISED records point occurrences and polygon assessments for all patches of these species, regardless of their size. Point occurrences are individual points recorded to represent an entire patch of invasive plants. Polygon assessments describe the size, shape, and coverage of a patch.
Priority 2 plants are highly invasive and usually more common than Priority 1 species. Small, outlier patches may be targeted for eradication or control. Uncommon species of concern are also listed here to improve our understanding of their distribution in the park. ISED records point occurrences for all patches, and buffered point assessments for patches smaller than 100 square meters.
Priority 3 plants include all other non-native plants. These may be widespread invasives that are difficult to control at the scale of the park, or less common species that do not cause significant ecological harm. ISED records presence/absence by subwatershed. No points or polygons are mapped.
2017 priority invasive plant species in Golden Gate National Recreation Area

| Priority | Scientific Name | Common Name | Family |
| --- | --- | --- | --- |
| 1 | Acroptilon repens | Russian Knapweed | Asteraceae |
| 1 | Aegilops triuncialis | Barbed Goatgrass | Poaceae |
| 1 | Ailanthus altissima | Tree-Of-Heaven | Simaroub­aceae |
| 1 | Albizia lophantha | Silk Tree | Fabaceae |
| 1 | Allium vineale | Vineyard Onion | Alliaceae |
| 1 | Ammophila arenaria | European Beachgrass | Poaceae |
| 1 | Ammophila breviligulata | American Beachgrass | Poaceae |
| 1 | Anthoxanthum odoratum | Sweet Vernal Grass | Poaceae |
| 1 | Aptenia cordifolia | Heartleaf Iceplant | Aizoaceae |
| 1 | Arctotheca calendula | Fertile Capeweed | Asteraceae |
| 1 | Arctotheca prostrata | Creeping Capeweed | Asteraceae |
| 1 | Arundo donax | Giant Reed | Poaceae |
| 1 | Berberis darwinii | Darwin's Berberis | Berberid­aceae |
| 1 | Brachypodium sylvaticum | Slender False Brome | Poaceae |
| 1 | Carduus acanthoides | Plumeless Thistle | Asteraceae |
| 1 | Carex pendula | Hanging Sedge | Cyperaceae |
| 1 | Carpobrotus chilensis | Sea Fig | Aizoaceae |
| 1 | Carthamus lanatus | Woolly Distaff Thistle | Asteraceae |
| 1 | Centaurea calcitrapa | Purple Starthistle | Asteraceae |
| 1 | Centaurea solstitialis | Yellow Starthistle | Asteraceae |
| 1 | Cirsium arvense | Canada Thistle | Asteraceae |
| 1 | Clematis vitalba | Traveller's Joy | Ranuncul­aceae |
| 1 | Conicosia pugioniformis | Narrow-Leaved Iceplant | Aizoaceae |
| 1 | Cortaderia selloana | Pampas Grass | Poaceae |
| 1 | Crataegus monogyna | Singleseed Hawthorn | Rosaceae |
| 1 | Cynara cardunculus | Cardoon | Asteraceae |
| 1 | Cytisus scoparius | Scotch Broom | Fabaceae |
| 1 | Cytisus striatus | Portuguese Broom | Fabaceae |
| 1 | Digitalis purpurea | Purple Foxglove | Scrophular­iaceae |
| 1 | Dittrichia graveolens | Stinkweed | Asteraceae |
| 1 | Drosanthemum floribundum | Showy Dewflower | Aizoaceae |
| 1 | Echium plantagineum | Salvation Jane | Boraginaceae |
| 1 | Ehrharta calycina | Perennial Veldt Grass | Poaceae |
| 1 | Eichhornia crassipes | Water Hyacinth | Ponteder­iaceae |
| 1 | Elymus caput-medusae | Medusahead | Poaceae |
| 1 | Euphorbia oblongata | Oblong Spurge | Euphorb­iaceae |
| 1 | Fallopia japonica | Japanese Knotweed | Polygonaceae |
| 1 | Hedera canariensis | Algerian Ivy | Araliaceae |
| 1 | Helichrysum petiolare | Licorice Plant | Asteraceae |
| 1 | Hypericum grandifolium | Largeleaf St. Johnswort | Clusiaceae |
| 1 | Hypericum perforatum | Klamathweed | Clusiaceae |
| 1 | Ilex aquifolium | English Holly | Aquifoliaceae |
| 1 | Lepidium latifolium | Perennial Pepperweed | Brassicaceae |
| 1 | Limonium ramosissimum | Algerian Sea Lavender | Plumbagin­aceae |
| 1 | Ludwigia hexapetala | Six-Petal Water Primrose | Onagraceae |
| 1 | Ludwigia peploides ssp. montevidensis | Floating Water Primrose | Onagraceae |
| 1 | Maytenus boaria | Chilean Mayten | Celastraceae |
| 1 | Mesembry­anthemum crystallinum | Ice Plant | Aizoaceae |
| 1 | Myriophyllum aquaticum | Parrot's-Feather | Haloragaceae |
| 1 | Myriophyllum spicatum | Eurasian Watermilfoil | Haloragaceae |
| 1 | Nassella tenuissima | Finestem Needlegrass | Poaceae |
| 1 | Nicotiana glauca | Tree Tobacco | Solanaceae |
| 1 | Phalaris arundinacea | Reed Canary Grass | Poaceae |
| 1 | Phalaris elongata | Kolea Grass | Poaceae |
| 1 | Pittosporum crassifolium | Stiffleaf Cheesewood | Pittosporaceae |
| 1 | Pittosporum undulatum | Victorian Box | Pittosporaceae |
| 1 | Pyracantha angustifolia | Narrowleaf Firethorn | Rosaceae |
| 1 | Rhamnus alaternus | Italian Buckthorn | Rhamnaceae |
| 1 | Robinia pseudoacacia | Black Locust | Fabaceae |
| 1 | Romulea rosea var. australis | Rosy Sandcrocus | Iridaceae |
| 1 | Rytidosperma caespitosum | Common Wallaby Grass | Poaceae |
| 1 | Rytidosperma penicillatum | Hairy Wallaby Grass | Poaceae |
| 1 | Scabiosa atropurpurea | Mourningbride | Dipsacaceae |
| 1 | Spartina alterniflora | Smooth Cordgrass | Poaceae |
| 1 | Spartium junceum | Spanish Broom | Fabaceae |
| 1 | Stipa chaetophora | Stipoid Ricegrass | Poaceae |
| 1 | Stipa manicata | Andean Tussockgrass | Poaceae |
| 1 | Stipa purpurata | Bristly Needle Grass | Poaceae |
| 1 | Trifolium angustifolium | Narrowleaf Clover | Fabaceae |
| 1 | Ulex europaeus | Gorse | Fabaceae |
| 1 | Vinca major | Periwinkle | Apocynaceae |
| 2 | Acacia melanoxylon | Blackwood Acacia | Fabaceae |
| 2 | Acacia paradoxa | Kangeroo Thorn | Fabaceae |
| 2 | Ageratina adenophora | Thoroughwort | Asteraceae |
| 2 | Agrostis avenacea | Pacific Bentgrass | Poaceae |
| 2 | Bromus madritensis ssp. rubens | Red Brome | Poaceae |
| 2 | Bromus tectorum | Cheat Grass | Poaceae |
| 2 | Buddleja davidii | Butterfly Bush | Scrophular­iaceae |
| 2 | Calendula arvensis | Field Marigold | Asteraceae |
| 2 | Centaurea melitensis | Tocalote | Asteraceae |
| 2 | Cestrum parqui | Orange Jessamine | Solanaceae |
| 2 | Cynodon dactylon | Bermudagrass | Poaceae |
| 2 | Dactylis glomerata | Orchard Grass | Poaceae |
| 2 | Datura stramonium | Jimsonweed | Solanaceae |
| 2 | Delairea odorata | Cape Ivy | Asteraceae |
| 2 | Dipsacus fullonum | Fuller's Teasel | Dipsacaceae |
| 2 | Eucalyptus globulus | Bluegum Eucalyptus | Myrtaceae |
| 2 | Festuca arundinacea | Tall Fescue | Poaceae |
| 2 | Fuchsia magellanica | Hardy Fuchsia | Onagraceae |
| 2 | Geranium purpureum | Herb Robert | Geraniaceae |
| 2 | Geranium robertianum | Robert Geranium | Geraniaceae |
| 2 | Glyceria declinata | Waxy Mannagrass | Poaceae |
| 2 | Hedera helix | English Ivy | Araliaceae |
| 2 | Iris pseudacorus | Yellow Flag Iris | Iridaceae |
| 2 | Lamiastrum galeobdolon | Yellow Archangel | Lamiaceae |
| 2 | Leptospermum laevigatum | Australian Teatree | Myrtaceae |
| 2 | Leucanthemum vulgare | Oxeye Daisy | Asteraceae |
| 2 | Ligustrum lucidum | Glossy Privet | Oleaceae |
| 2 | Mentha pulegium | Pennyroyal | Lamiaceae |
| 2 | Mercurialis annua | Annual Mercury | Rubiaceae |
| 2 | Oxalis pes-caprae | Bermuda Buttercup | Oxalidaceae |
| 2 | Pennisetum clandestinum | Kikuyu Grass | Poaceae |
| 2 | Phoenix canariensis | Canary Isl. Date Palm | Arecaceae |
| 2 | Phytolacca americana var. americana | Pokeweed | Phytolacc­aceae |
| 2 | Roldana petasitis | Velvet Groundsel | Asteraceae |
| 2 | Rosa rubiginosa | Sweetbriar Rose | Rosaceae |
| 2 | Rubus armeniacus | Himalayan Blackberry | Rosaceae |
| 2 | Salsola soda | Oppositeleaf Russian Thistle | Chenopoi­aceae |
| 2 | Solanum aviculare | New Zealand Nightshade | Solanaceae |
| 2 | Sorghum halepense | Johnson Grass | Poaceae |
| 2 | Sparaxis tricolor | Harlequin Flower | Iridaceae |
| 2 | Stipa miliacea var. miliacea | Smilo Grass | Poaceae |
| 2 | Tradescantia fluminensis | Wandering Jew | Commelin­aceae |
| 3 | Arrhenatherum elatius | Tall Oatgrass | Poaceae |
| 3 | Brassica rapa | Field Mustard | Brassicaceae |
| 3 | Carpobrotus edulis | Iceplant | Aizoaceae |
| 3 | Coprosma repens | Creeping Mirrorplant | Rubiaceae |
| 3 | Cortaderia jubata | Jubata Grass | Poaceae |
| 3 | Cotoneaster franchetii | Orange Cotoneaster | Rosaceae |
| 3 | Cotoneaster lacteus | Milkflower Cotoneaster | Rosaceae |
| 3 | Cotoneaster pannosus | Silverleaf Cotoneaster | Rosaceae |
| 3 | Ehrharta erecta | Panic Veldt Grass | Poaceae |
| 3 | Erigeron karvinskianus | Latin American Fleabane | Asteraceae |
| 3 | Foeniculum vulgare | Sweet Fennel | Apiaceae |
| 3 | Genista monspessulana | French Broom | Fabaceae |
| 3 | Gunnera tinctoria | Chilean Gunnera | Gunneraceae |
| 3 | Lathyrus latifolius | Everlasting Pea | Fabaceae |
| 3 | Ligustrum ovalifolium | California Privet | Oleaceae |
| 3 | Linaria vulgaris | Butter And Eggs | Scrophular­iaceae |
| 3 | Lonicera japonica | Japanese Honeysuckle | Caprifoliaceae |
| 3 | Parietaria judaica | Spreading Pellitory | Urticaceae |
| 3 | Phalaris aquatica | Harding Grass | Poaceae |
| 3 | Pinus radiata | Monterey Pine | Pinaceae |
| 3 | Schinus molle | Pepper Tree | Anacard­iaceae |
| 3 | Tamarix chinensis | Saltcedar | Tamaricaceae |
| 3 | Xanthium spinosum | Spiny Cockleburr | Asteraceae |
| 3 | Xanthium strumarium | Rough Cockleburr | Asteraceae |