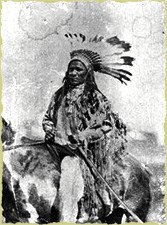 The Garden Coulee site, located on the grounds of Fort Union Trading Post National Historic Site, represents an historic Hidasta occupation that occurred during the 1870's -1880's after the trading post was abandoned in 1864. Even though this site is not associated with Ft. Union, it contributes to our understanding of land use and politics in the northern plains during the turbulent 1870's.
History
The Missouri River valley in North and South Dakota was home to Native American village-dwelling peoples for nearly the last millenium. These peoples included the Siouan-speaking Hidatsa and Mandan and the Caddoan-speaking Arikara. They lived in semi-permanent villages of earthlodge structures, with an economic system based on a combination of horticulture and hunting, supplemented by gathering wild plant foods.
For the Hidatsa, the historic period was a time of complex culture change and social interaction with Europeans and Euro-Americans. The history of the Crow-Flies-High band of Hidatsa is a reflection of the drastic changes that affected Hidatsa culture and social organization between 1837 and 1900, the time when disease, warfare, and relocation were having significant impacts on the Hidatsa people.
From the first contact with Europeans during the 18th century the people that became known as the Hidatsa lived as three separate and distinguishable groups, the Awatixa, Awaxawi, and the Hidatsa proper. In 1837 a massive smallpox epidemic took the lives of nearly two-thirds of all the villagers living near the mouth of the Knife River at what is today Knife River Indian Villages National Historic Site.