A Taste of Home in a Hostile Place
By Susan Dolan, NPS Cultural Landscapes Program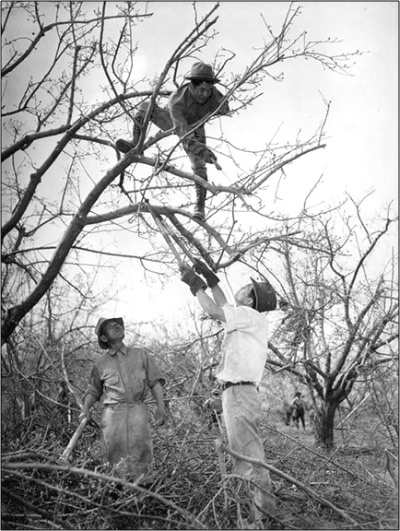 Manzanar National Historic Site
Independence, California
The image of a national park in our mind's eye probably doesn't give form to an orchard of fruit trees.  However, it is a little-known fact that one third of all the US national parks have old fruit trees.  The trees bear witness to our use of the land before the national parks, and no less is the case at Manzanar National Historic Site where nearly 100 year-old fruit trees date from the early agricultural settlement of the Owens Valley in California.
The Manzanar fruit trees may seem somewhat "everyday" and ordinary, but they are in fact remarkable as some of the few remaining historic features of a Japanese-American Internment Camp that existed during World War II.  To Japanese-Americans interned at Manzanar in the early days of 1942, the camp orchards provided some of the few fresh foods to augment MREs (Meals Ready to Eat) and offered a precious taste of home.
Today, Manzanar National Historic Site is the best-preserved Japanese-American War Relocation Center operated by the US federal government between 1942 and 1945.  The Japanese attack on Pearl Harbor during World War II led to President Roosevelt's declaration of Executive Order 9066, resulting in the internment of Japanese-Americans, many of whom were US citizens.  In an attempt to protect national security, 100,000 Japanese Americans were herded to ten War Relocation Centers in seven states for the remainder of the war.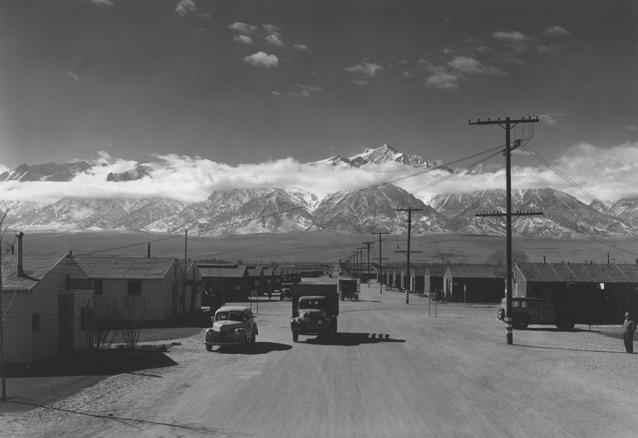 Internees endured harsh living conditions in the hastily-erected camps of tarpaper barracks, and many lost all of their property through their forcible relocation.  Each camp was required to be self-sufficient and Manzanar internees raised chickens, hogs, vegetables and fruit.  The camp orchards, recently abandoned by farmers who had sold to the Los Angeles Department of Power and Water, responded well to the care of internees.  Despite deprivation of groundwater through LA's efforts to harness the Owens River for potable water, the trees yielded a harvest of pears, apples, peaches, figs and apricots.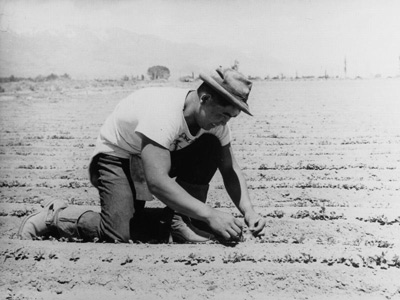 The camp's world of confinement with guard towers, cramped conditions, bitter cold, searing heat and sandstorms, may have been temporarily relieved by the sweet succulence of fruit.  The familiar taste of the fresh harvest may have momentarily transported some internees back to their lives of freedom before the war, when many families worked the lands along the Pacific Coast, raising strawberries, roses and cut flowers.  
During the three years of their confinement, in a remarkable demonstration of the human spirit, internees transformed the inhospitable desert of the camp with Japanese gardens created from salvaged rocks and native plants and built a reservoir and irrigation channels to return water to the barren soil.
Today, the National Park Service is partially restoring the landscape to its appearance during World War II.  Two barracks, a mess hall, the auditorium and a guard tower have been restored, along with numerous Japanese gardens and cultivated areas.  Sixty three historic fruit trees within the four surviving orchard areas have been rejuvenated, and new replacement trees are being planted to fill in the gaps of missing trees. 
This landscape is a monument to both human failing and remarkable endeavor.  Out of more than 10,000 internees, 146 died at Manzanar.  Five graves remain there.  If you visit the park in early fall and stop by the wonderful visitor center, don't be surprised to find a box of freshly-harvested Manzanar pears on the counter.  Close your eyes as you take a bite, and share a familiar taste of home in a most unfamiliar place.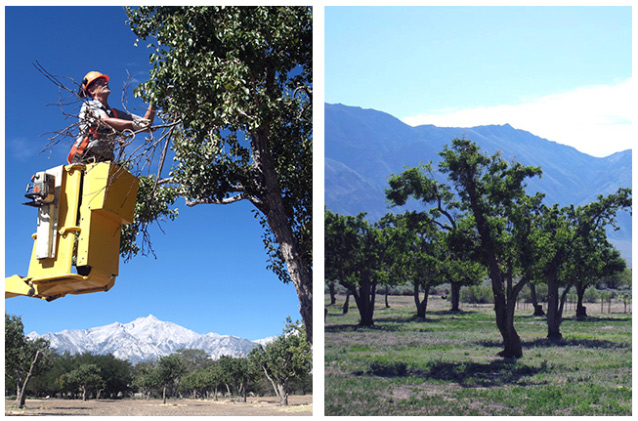 text
Visiting this Landscape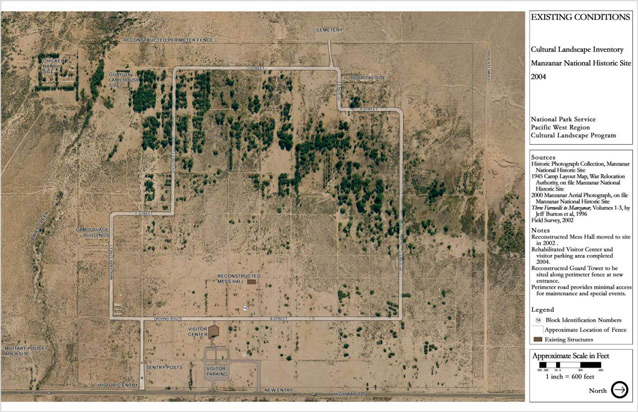 For news and announcements, visiting information, and photos and oral histories, visit the Manzanar National Historic Site website. 
Contact: (760) 878-2194 x3310
Guided Tours: Offered regularly, from 15-90 minutes long. Group tours by special reservation.
Fees: Free
Access: The park grounds are open daily from dawn until dusk. Interpretive Center hours vary seasonally. 
Last updated: August 14, 2017