Emily Williams - Avian Ecologist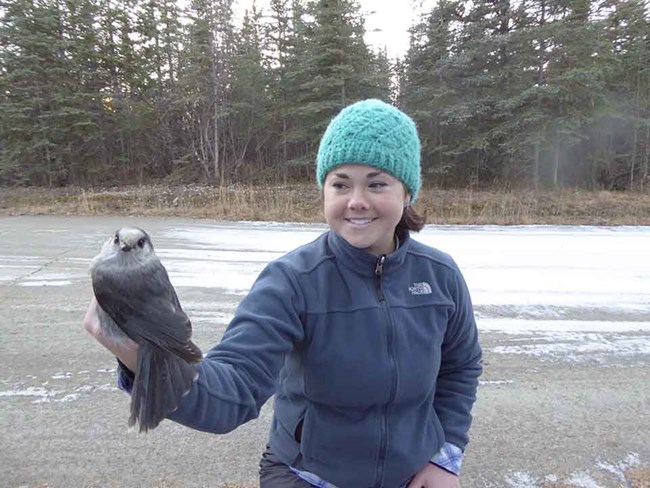 Emily Williams
Avian Ecologist
Denali National Park and Preserve
PO Box 9
Denali Park, AK 99755
907-683-5758
e-mail us

Emily Williams is an avian ecologist with Denali National Park and Preserve, Alaska. Emily started her avian career in Laramie, Wyoming, where she helped on a study investigating the effects of wind energy on grassland avifauna. Following that experience, Emily worked on a number of projects within and outside North America. Such experiences involved studying physiology and movement of birds breeding in eastern bottomland hardwood forest in South Carolina, vocal signaling of red-backed fairy wrens in Queensland, Australia, migration of Fork-tailed Flycatchers and Tropical Kingbirds in Argentina, and incubation behavior of tropical birds in Peru. In 2013, Emily began her masters studying the movement ecology of Grasshopper Sparrows and other grassland birds in Kansas. In 2016, Emily left the grasslands of the Great Plains for the spruce forests of Alaska, to begin her position at Denali. Emily is actively involved in the Early Professionals and Communications committees of the American Ornithological Society, and in the Early Career Professionals Working Group of The Wildlife Society. When she isn't in the field studying birds or in front of her computer thinking about dispersal, Emily can generally be found outside, kayaking, hiking, camping, or trying to pass as an Alaskan, one rookie mistake at a time.
An Interview with Emily Williams
NPS: How did you get started in your field?
Emily: Growing up, my family wasn't really outdoorsy, but we did go to a few national parks and natural areas and I had the opportunity to go camping with friends' families a couple of times. . Those instances and a few other experiences initially got me interested in animals, nature, the field of biology. In middle school, I participated in a week-long marine biology camp that opened a new world of possibilities, but I still wasn't sure how to pursue a career in biology. In college, I was lucky to engage in two internships with the Student Conservation Association—one in Alaska at the Kenai National Wildlife Refuge, and another in Yellowstone National Park. Those experiences exposed me to the work of biologists and provided some field experience. Then my first official position with the National Park Service was at Assateague National Seashore in Maryland, where I worked in water quality, marsh, and wetland monitoring. Through these internships, jobs, and other experiences in undergrad and beyond, I learned more about myself and what I found interesting, and then was able to narrow down my interests for what I wanted to study in grad school.

NPS: What got you interested in ornithology?
Emily: I didn't start out as a birder or wanting to study birds. While I grew up in what is verifiably considered a birder's paradise – very near to Merritt Island National Wildlife Refuge in Titusville, Florida – and had an appreciation for those charismatic, easy-to-see birds like ospreys and wading birds, I wouldn't have considered myself "into" birds until l I took an ornithology class in college with a phenomenal professor. Through his mentorship and teaching, I started to really find birds scientifically interesting – and became enamored by the wonders of bird migration. It was after this course that I started asking questions and honing my interests for what I wanted to study and pursue working with in the long-term.

NPS: Why were you interested in working with the National Park Service?
Emily: My SCA positions, my first seasonal position with NPS, and my involvement with university projects all provided exposure to working with the National Park Service. Rather than seek to work for a particular agency or entity, it is more about looking for opportunities that combine research, conservation, and outreach that drive my career choices. I really like that combination in a position and have found that my job here at Denali National Park and Preserve is a great balance of all of these interests.

NPS: What advice would you give new people coming into the field?
Emily: If you know what you want to do early on, go for it! Think through the steps you need to take to reach your goals.

Like me, most people don't know what they want to do, so my advice is to explore your interests and get a lot of diverse experiences to help narrow down what you want to do. Use internships to gain experience and be open to new experiences that may not seem related—such as working in interpretation or doing hard labor with trail construction—to help narrow your interests. Get experience (through jobs, internships, or volunteering) with a variety of tasks and a range of different organizations or agencies to know what you like and what you don't like.

Permanent federal positions can be hard to get. The best path towards that goal is to get lots of experience, find people to mentor you, get connected (to people and the place), and volunteer where you want to be. Build and expand your network; those connections will help you find opportunities and those people you meet and work with will be able to speak to your skills and character when jobs opportunities come up.

Learn how to apply for jobs. It sounds funny, but there are some real tips to applying for different positions. There are definitely nuances to applying for federal jobs and the more you learn about this from your mentors, the more successful you will be.
And don't lose hope: federal positions will open up, one retirement at a time!
Links
Education
MS Kansas State University, Avian Ecology
BS University of Florida, Wildlife Ecology & Conservation
BA University of Florida, English Literature
Areas of Interest
Emily's research broadly focuses on the movements of individual animals; specifically, how and why birds migrate, and how individuals adapt to changing environmental conditions. She is interested in questions that attempt to determine how ecological factors may drive variation in different life history strategies, and how those factors can carry over to affect different stages in annual life cycles. Combined with these interests, Emily's research seeks to understand how birds may respond to different land management and conservation practices in the context of a changing climate.

Peer-reviewed Publications
Williams, E. J. and W. A. Boyle. 2017. Patterns and correlates of within-season breeding dispersal: a common strategy in a declining grassland songbird. Auk. In Press.

Other Published Materials
Williams, E. J. Jun 2017. The Crossing. Dispatches from the field blog guest post.

Williams, E. J. Mar 2017. Things I had to learn the hard way during my first winter in Alaska. Dispatches from the field blog guest post.

Williams, E. J. 2016. Hard travelin' down the Prairie: within-season breeding dispersal in a declining grassland songbird. Remotely Wild Newsletter 32: 9–14.


Last updated: May 30, 2019