Eliza Scidmore traveled through Alaska's Inside Passage in 1883. Her articles and travel logs shared the grandeur and adventure of Alaska with western tourists, ushering in a new era of travel and tourism to the Alaska territory.
The Scidmore Glacier in Glacier Bay National Park is little noticed by most visitors, but its name is a testament to one of the area's most interesting and intrepid visitors: Eliza Ruhamah Scidmore. Eliza was an independent world traveler, writer, and diplomat at a time when social norms kept women at home. 
Scidmore (pronounced "Sid-more") was born in 1856 in Iowa. After attending Oberlin College, she took a job writing society columns for newspapers. However, Eliza wanted to see something more of the world and in 1883 she purchased a ticket to Alaska. Eliza traveled with Captain James Carroll on the steamship Idaho through Southeast Alaska, including stops in Glacier Bay. She wrote newspaper and magazine articles about her travels and in 1885 published the first Alaska travel guide. While in Glacier Bay, Scidmore described meeting Tlingit families hunting in Glacier Bay for the summer; interactions with Dick Willoughby, one of the first white settlers in the area; and the efforts Captain Carroll took to get the Idaho to the face of a tidewater glacier. Of the Muir Glacier she wrote: "Words and dry figures can give one little idea of the grandeur of this glacial torrent flowing steadily and solidly into the sea, and the beauty of the fantastic ice front, shimmering with all the prismatic hues, beyond imagery or description." These publications and others influenced the opening of Alaska to western tourism.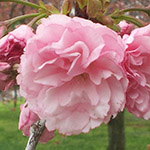 In the decades after her visit to Alaska, Scidmore worked on projects of lasting importance. In 1890, she joined the new National Geographic Society. Over the next twenty years, Scidmore contributed to the Society as a writer, editor, photographer, lecturer, and sat on the Board of Managers, the first woman to do so. Scidmore's photos of everyday Japanese life can be found in the Nat Geo Image Collections here.
Scidmore's most visual legacy is the cherry trees in Washington, D.C. Eliza visited Japan for the first time in 1885 and returned many times thereafter. Convinced that Japan's cherry trees would beautify Washington, D.C., Eliza worked with First Lady Helen Taft, the manager of Washington area parks, and representatives of Japan to plant cherry trees. The project faced many setbacks, but eventually succeeded. Today, the cherry blossom trees are celebrated by visitors to Washington DC from near and far. Learn more about the cherry trees and check the 'blossom cam' on NPS.gov here.
Glacier Bay's Scidmore Glacier is nestled on the side of the Fairweather Mountains. Preceded by Scidmore Bay, the glacier and her namesake bay commemorate a woman who shared the beauty she found in the world with others. 
Last updated: August 7, 2023