Media Included
Milky Way over Sand Beach - The Milky Way passes over Sand Beach as cars drive along Ocean Drive.
The night skies of Acadia National Park, and the nocturnal ecosystems that depend on them, are in constant threat due to light pollution.
Through collaboration with the Worcester Polytechnic Institute, the Acadia's Night Sky Initiative was established to measure, promote, and protect the natural night sky in the Park and surrounding areas.  
In addition to an ongoing and in depth technical initiative to measure sky quality, the Acadia National Park has also developed a vast network of educational activities and resources to help educate kids, teachers, and the general public about the importance and urgency of protecting the night skies. The International Dark Sky Association is the non-profit organization responsible for establishing the guidelines for preserving and protecting the night time environment and our heritage of dark skies around the world.
The Acadia National Park is currently applying for recognition by the International Dark Sky Association as a park possessing exceptional starry skies and natural nocturnal habitat where light pollution is mitigated and natural darkness is valuable as an important educational, cultural, scenic, and natural resources.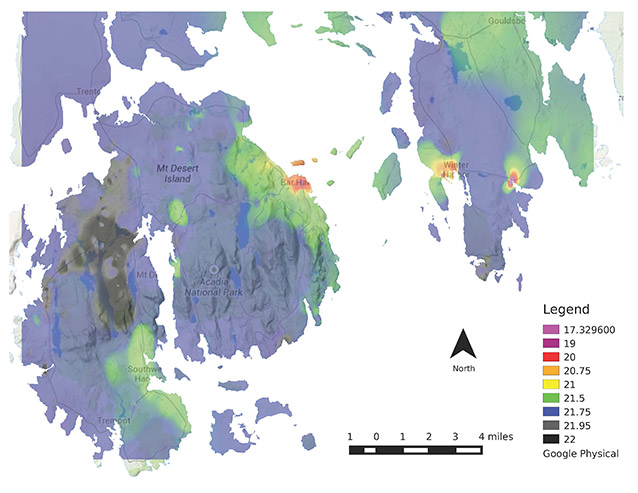 This map shows the hot spots where light pollution is worst around the park.
Last updated: March 16, 2015