Campfire Cooking with a Stick
Cooking in the great outdoors is a wonderful experience. Most people have heard of roasting marshmallows to make delicious s'mores, but a campfire offers endless possibilities. If you have minimal camping supplies, sometimes all you need is a stick, a campfire, and the right ingredients to make the perfect camping food.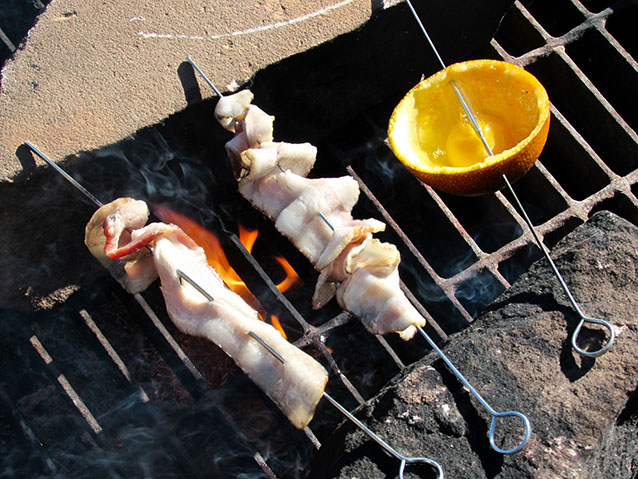 Here are 8 things to put on a stick on your next camping trip:
1. Bacon. Bacon doesn't need to lie flat to taste delicious. Weave a piece of bacon on a stick and cook it over the campfire to make all your dreams come true.
2. Bread. Skewer some bread dough and toast it over the fire until it's golden brown. Have it plain or brush it with melted butter. For sweet bread, add cinnamon sugar; for savory bread, add some garlic powder and herbs.
3. Eggs. That's right, we said eggs. Maybe if you have some ridiculous skills, you can skewer an egg directly, but that's not what we're suggesting. Our suggestion is to use an orange peel kind of like a basket. Skewer the peel at the top and crack an egg into your orange basket to roast over the fire.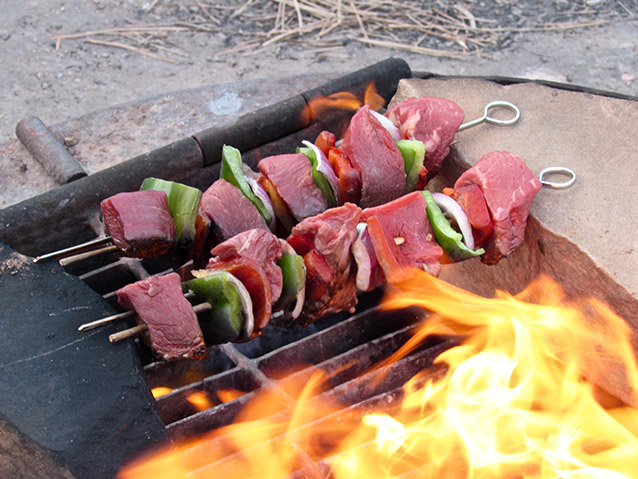 4. Mini Sandwiches. Cut bread into smaller pieces fit for skewering. Slide on one piece of bread, any fixings you may want, and top it off with the other piece of bread. Hold your stick over the campfire for some fire-toasted subs.
5. Pineapple. If you've never had grilled pineapple, you haven't seen pineapple at its best. For a similar, and equally delicious effect, try roasting some pineapple over your next campfire.
6. Starburst. This is one we have yet to try, but the internet raves about it. The starburst should develop an almost-crunchy exterior, while offering a soft and sweet center.
7. Meat and vegetables. Just like shish kebobs at home, this is perpetually customizable. Try steak and potatoes, or chicken and peppers, maybe scallops and zucchini - the possibilities are endless.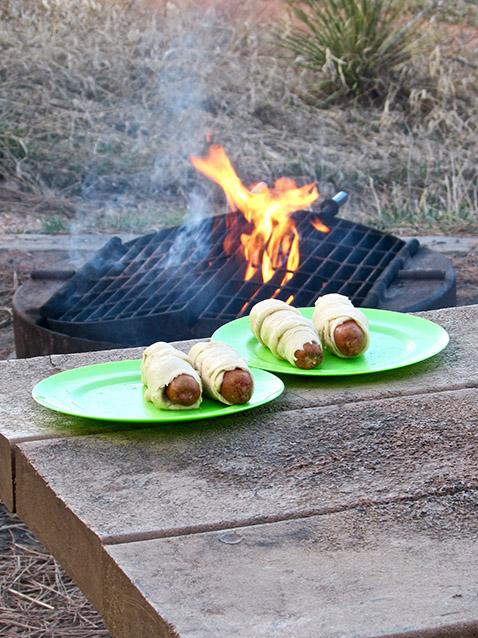 8. Hot dogs. Hot dogs on a stick is a go-to camping meal because it's easy, cheap, and you only need a few items - hot dogs, buns, and ketchup/mustard. For a twist on this, try wrapping the hot dog in crescent dough before skewering for some full-sized pigs in a blanket!
Basically, anything that wouldn't fall apart when cooked on a stick, can be cooked on a stick. And chances are, if it can't be cooked on a stick, you can wrap it in foil and still cook it in the campfire. So, if you don't have a camping stove or pots and pans, or even if you just want to forgo those items for space, there are other cooking solutions to make yourself a happy camper.