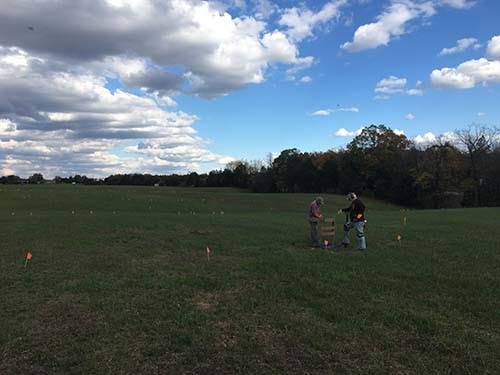 Cedar Creek and Belle Grove National Historical Park is excited to announce the archeological investigation of 13 acres of core battlefield land. This property, known as the "Claytor Field," was the scene of Union camps before the battle under the command of future President Rutherford B. Hayes. During the Battle of Cedar Creek on October 19, 1864 Confederate soldiers continued their successful surprise attack towards the 8th Corps camps. When fighting broke out in this field, Hayes' men attempted to stand their ground with support from the Union 19th Corps. Following the battle a Union veteran from Vermont described the fighting in this field when he wrote, "In an instant the timber was a blaze of light from musketry, and we were in the midst of one of the most fearful struggles of the war."
One hundred and fifty-three years later the National Park Service is conducting the first ever archeological investigation of this portion of the battlefield. Through the support of the Northeast Regional Archaeological Office the park was able to secure funds to map the area through the use of a magnetometer survey, conduct shovel test pits, and sample 1x1 meter units. Cultural Resource Associates was awarded the contract and began this October, coinciding with Virginia Archeology month. Each October the Virginia Department of Historic Resources encourages historic sites in the Commonwealth to focus on their archaeological resources and artifacts to educate the public. Preliminary work has already yielded a plethora of artifacts that will help the park understand the history of this landscape, and help inform future management decisions. Dedicated park volunteers from the Archeology Society of Virginia are supporting the project by screening and metal detecting.
The artifacts recovered during this study will be accessioned into the park's growing collection and housed in the Northeast Museum Service Center in Lowell, Massachusetts.