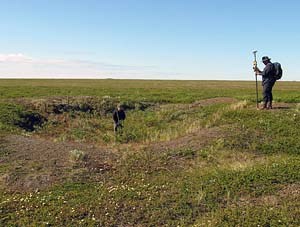 The Cape Krusenstern beach ridge complex is one of the premier archaeological sites in the North American Arctic. It is the focal point of the Cape Krusenstern NHL, which encompasses the entire 560,000 acre Cape Krusenstern NM. The beach ridge complex is composed of 114 ancient beach ridges containing every known cultural tradition in northwest Alaska from the last 5,500 years. Archeological sites on the beach ridges were first investigated in the 1950s and 1960s by pioneering Arctic archaeologist J. Louis Giddings, Jr. and his student, Douglas Anderson.
This year, the monument began a project to survey and inventory the entire 10 mile long 2.5 mile wide Cape Krusenstern beach ridge complex. The goal of the project is to integrate the cultural resource and environmental data into a comprehensive management plan that will help NPS address coastal erosion; cultural resources documentation, preservation, and protection; and various local access land use issues in Cape Krusenstern NM. The 2006 field season focused on cultural resource inventory; subsequent years will also include cultural anthropological, geomorphological, and paleoenvironmental components. This is a 2007-2009 International Polar Year project.


Methods used
Project personnel included three permanent Western Arctic Parklands NPP cultural resource staff; two undergraduate students and one graduate student from the University of Alaska, Anchorage; two graduate students from the University of Alaska, Fairbanks; and two University of Washington graduate students. The project also received invaluable support from the Alaska Regional Office GIS team.
Accupoint Inc.'s Anchorage office supplied equipment and services worth more than $15,000 in order to establish a GPS continuously operating reference station (CORS) in Kotzebue. This station enables the project to have decimeter accuracy for all GPS data collected within the project area and sub meter accuracy for GPS data collected within several hundred miles of Kotzebue. The general public can access the CORS data via the internet at Accupoint's web site.