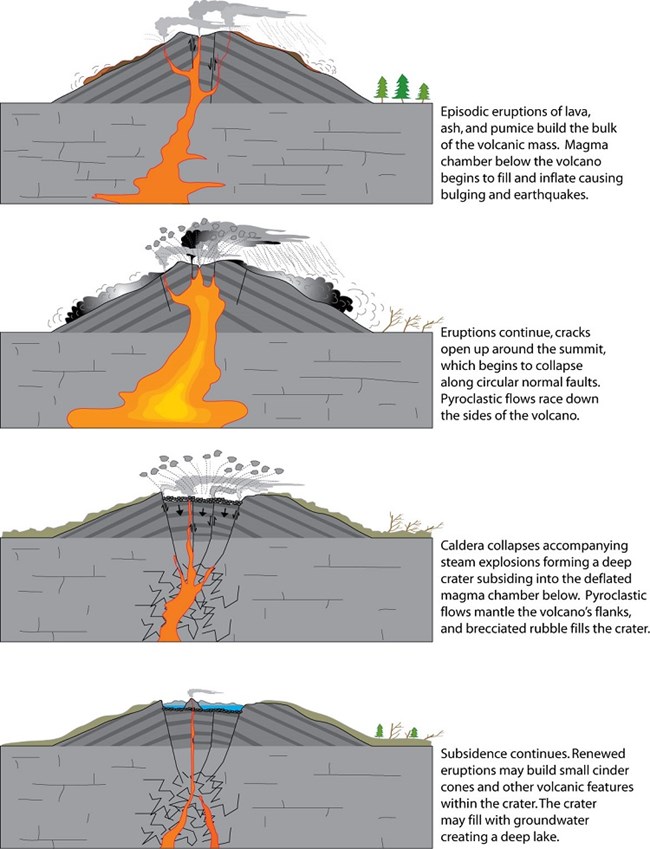 Calderas form after a large volcanic eruption, the pressure inside of the volcano is decreased, because large volumes of magma and gas have been released. The empty system of conduits and shallow reservoirs cannot support the weight of the mountain above it, so the volcano collapses down to form a caldera.
Calderas can be more than 25 kilometers in diameter and several kilometers deep. They can be steep-sided and are often circular.
There can be tectonic activity in calderas, such as earthquakes, uplifts, or ground subsidence. Hot springs, geysers, boiling mud pits, and other signs of geothermal activity are also common in calderas. Caldera activity can be monitored and researched to predict future volcanic eruptions.
Volcanism in Parks—Calderas
Aniakchak National Monument and Preserve, Alaska
[
Geodiversity Atlas
] [
Park Home
]
The cladera located within Aniakchak National Monument, is one of the largest explosive calderas in the world, averaging 6 miles wide and 2000 feet deep.
The caldera named
Aniakchak Crater
is a designated National Natural Landmark.