Article
Goodbye Tiny Bottles, Hello Dispensers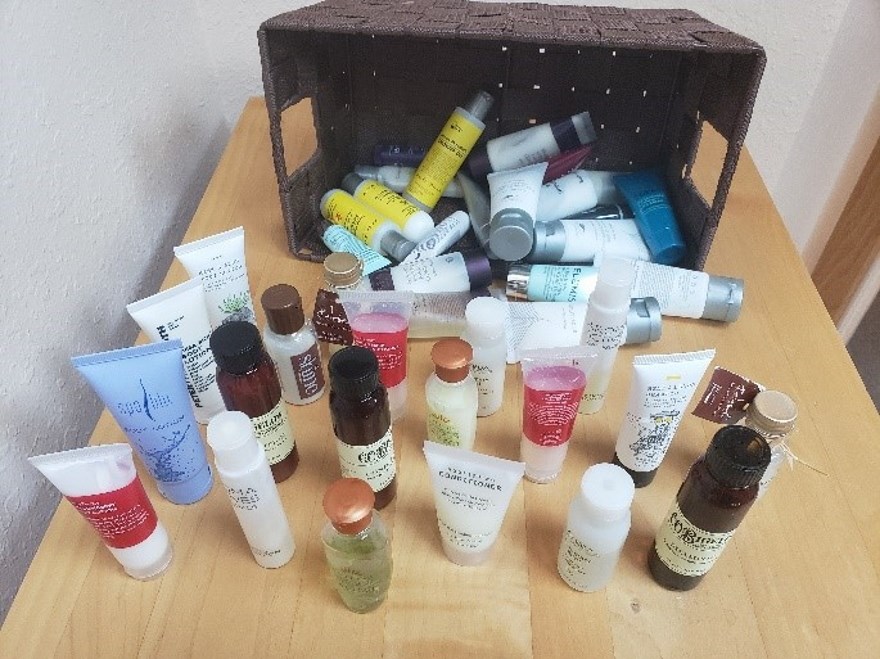 In April 2019, the California State Assembly voted to replace the small plastic bottles in hotels, B&Bs, resorts, and vacation rentals statewide with dispensers or bottles larger than 12 ounces. This bill, AB-1162, was proposed to reduce plastic waste. The bill is awaiting approval by the Governor, and if signed, the law will go into effect in 2023.
Listen to the NPR webcast about the bill.
California, though the first state to initiate such a bill, is far behind many of the National Park Service (NPS) concessioners and other well-known hotel chains. Marriott International announced last year that it will eliminate the use of small bottles and place dispensers in nearly 1500 hotels in North America. The expected effect will eliminate over ten million plastic bottles, which adds up to well over 100,000 pounds of plastic waste annually.
The Controversy
Mixed opinions about abandoning small bottles for dispensers exist. Those opposed worry about the cleanliness and sanitation of the dispensers and suggest hotel chains are converting to dispensers only to save money. However, according to Lynn Mohrfeld, President and CEO of the California Hotel & Lodging Association, "we have methods now to keep it healthy and sanitary." For example, many dispenser suppliers offer built-in locks so guests can't tamper with the contents.
Regarding the money-saving argument, the benefits appear to be minimal. Marriott estimates savings of about $2,000 a year per hotel, but this does not include costs to:
purchase
install
maintain the dispensers.
Lynn Mohrfeld estimates the installation cost alone will average around $70/room for each of the 500,000 rooms affected by the California bill. This calculates to well above that annual $2,000 savings, depending on the size of the establishment.
Environmental Benefits
Despite the savings or costs, many establishments that have converted to dispensers have done so for the environmental benefits. Xanterra, with properties at nine national parks, transitioned to a company-wide bulk amenity program in 2013. According to David Perkins, Xanterra's Director of Sustainability at Grand Canyon National Park (GRCA), waste management is a big concern that helped drive the initiative forward. Delaware North, which runs the Yavapai Lodge at GRCA, began offering bulk amenities in guest rooms a year or two later. Both companies were committed to sustainability prior to the conversion.
Delaware North's GreenPath® was the first Environmental Management System (EMS) of a U.S. hospitality company to be registered to ISO 14001 standards. Delaware North's company-wide EMS began in Yosemite National Park in the early 1990s. In 2012, Delaware North joined Clean the World, a non-profit organization that works with other NPS concessioners and corporate hotels, to recycle hotel soap and hotel amenities. Clean the World receives partly used bars of soap, grinds them together in a patent-pending process, and forms them into new bars of soap. These reformed soap bars are then delivered to those in need in over 127 countries around the globe. Clean the World started the program in 2012 and has distributed more than 50 million bars of soap, all recreated from soap remnants that would have otherwise gone into landfill.
In 2008, Xanterra was the first national park concessioner to offer sustainable amenities, including biodegradable containers and bars of sustainable soaps. As a result, more than one million bottles are kept out of the waste stream each year. Xanterra's properties in Yellowstone still offer their renowned iconic bear soaps, even after the switch to the bulk amenities program. Guests have come to love these soaps and expect them when they visit. However, by changing vendors, Xanterra was able to reduce excess packaging, an unnecessary waste. Additionally, Xanterra donates partly used soap bars to the nearby Hutterite colony.
Other Benefits
Another benefit of a bulk amenities program is sharing the savings with customers and guests. Concessioners can provide high quality products and realize savings at the same time. In fact, Xanterra's amenities offering at the Grand Canyon's El Tovar Hotel received such positive responses from guests, that Xanterra began selling guest room dispenser bottles in the hotel's gift shop. Many other Xanterra properties have followed suit. By encouraging guests to bring the dispensers home, positive environmental effects are expanded further. Many companies also work with suppliers to get specific branding on their dispenser bottles. The key is to make sure it's an appealing product. According to David Perkins, if you put good product in attractive containers, negative responses are limited.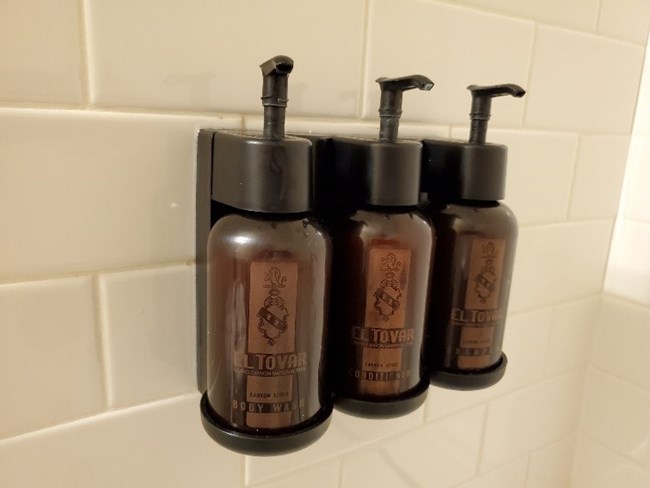 A bulk amenities program can also help from a guest services and hospitality standpoint. One of the concerns of those against the California bill is that bulk amenities are more difficult for housekeeping staff to manage. However, both Xanterra and Delaware North have found ways to make the process smoother.
Delaware North recently switched from refillable bottles to recyclable dispenser bottles to prevent possible contamination. The switch has helped the hospitality staff save time and effort by not refilling bottles in the rooms, which can be cumbersome and messy. Xanterra's housekeeping staff carry full dispenser bottles on their carts. When a bottle is nearly empty, the staff simply replaces it with a full bottle. Bottles are later refilled from bulk bladders, decreasing the likelihood of contamination and mess.
Adding a bulk amenities program can relieve some of the burden placed on housekeeping staff and allow guests to check-in to their rooms earlier. Having bulk dispensers removes the need to replace every bottle in every room, every day. This saves a significant amount of time for staff and allows them to focus on other ways to enhance guest experiences.
In Summary
While there is still contention over the new California law, it appears switching to a bulk amenities program has not hindered NPS concessioners. Instead, it has helped many of these early pioneering concessioners deliver a better guest experience while staying true to a mission of sustainability. The bulk dispensers are not only eco-friendly, but allow properties to offer a better value on their guest amenities packages. As Dylan Hoffman, the Director of Sustainability at Yellowstone National Park Lodges sees it: "If you can save here, you can add better stuff elsewhere. Everybody wins!"
While some people continue to believe that high-end hotels should provide small bottles in their amenities packages, this is not an expectation of the general public. Although this may have been an expectation several years ago, there has been an obvious paradigm shift. Bulk amenities help concessioners (and others):
save time
money
protect the environment worldwide
As David Perkins puts it, "why resist?" While switching does take a long-term commitment, those properties that have made the shift feel it has been a smooth and worthwhile transition.
Last updated: August 11, 2021