Black Homesteaders in the Great Plains Project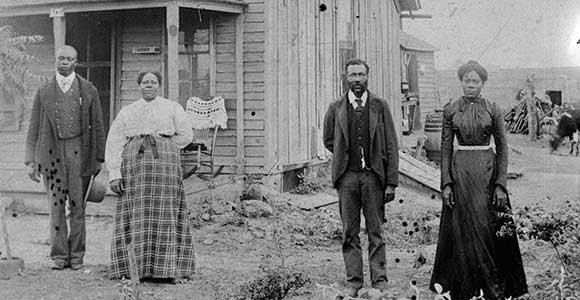 At Blackdom, New Mexico; Dearfield, Colorado; DeWitty, Nebraska; and other locations throughout the Great Plains, Black people staked homestead claims and created vibrant communities. Nicodemus, Kansas, the largest and most famous, was home to some three to four hundred Black homesteaders in the 1880s; only it continues to be occupied today, home to about a dozen descendants of original homesteaders. Black homesteaders prospered when the weather cooperated and suffered when hail, drought, or grasshoppers arrived. Each community has a unique story of its founding pioneers and their dreams, of the dangers, hardships, toil, and disappointments they endured, and of the joy and successes they acheived.
Nicodemus is a National Historic Site, and Dearfield is listed on the National Register of Historic Places, but today most of these communities are forgotten, their buildings rotting and their locations unmarked. Most regrettably, the inspiring acheivements of their homesteaders are in danger of being erased from public memory, except by their own descendants.
This project seeks to learn, preserve, and disseminate the story of African Americans who homesteaded in the Great Plains. Homestead National Monument of America and Nicodemus National Historic Site are collaborating with the University of Nebraska's Center for Great Plains Studies. The Center for Great Plains studies has received funds from the National Park Service and the African American Cultural Heritage Action Fund, part of the National Trust for Historic Preservation. The research is being conducted by the following Center for Great Plains Studies staff: Rick Edwards, project leader, and postdoctoral researchers Jake Friefeld and Mikal Eckstrom, with the help of research assistants Jessica Carter, Katie Meegan, Crisanto Dubuc, Esther Ramsay, and Lucas Mathews.
The project focuses on Black homesteaders in seven states: Montana, North Dakota, South Dakota, Wyoming, Nebraska, Kansas, and Colorado. It will create the first comprehensive database of Black homesteaders in these states. The project also focuses on six key Black homesteading communities or 'colonies': Blackdom; Dearfield; DeWitty; Nicodemus; Empire, WY; and Sully County, South Dakota. These colonies the largest and longest-lived in each state. For each community rosters of all homesteaders and interactive site maps will be created.
The Center for Great Plains Studies will present the results of their research to the National Park Service and publish them in academic journals and elsewhere. They will also work with local historical societies, descendants, and other to disseminate widely this often untold story of Great Plains homesteading.

To learn more about this project and it's progress, visit the University of Nebraska Center for Great Plains Studies' Homesteading Research
webpage.
Last updated: March 9, 2019