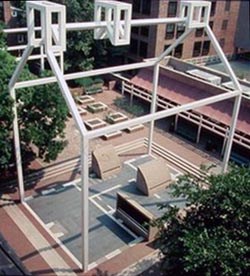 How do you celebrate the enduring legacy of Benjamin Franklin, one of our most familiar inventors, scientists, and "inquiring minds" of the revolutionary era? To celebrate the 300th anniversary of Benjamin Franklin's birthday, archeologists assessed the archeological research that has been done at Franklin Court in Independence National Historical Park in Philadelphia. The archeological collections provide insight into Franklin at home with his family and reveal a little more about his fascination with science.
As part of the commemorations for the 300th anniversary of the birth of Benjamin Franklin, on January 17, 1706, the Benjamin Franklin Tercentenary Consortium commissioned an assessment of the archeological investigations conducted at the site of Franklin's Philadelphia home where he lived for the last 26 years of his life. This property, Franklin Court, is part of Independence NHP. Franklin Court is a major resource for millions of people to experience a personal connection with the life and times of Franklin by visiting the site of his house and grounds and viewing his possessions and other objects from the 18th century.
The Benjamin Franklin Tercentenary Consortium, a non-profit organization, was established to reaffirm Franklin's enduring legacy in his 300th birthday year. The consortium was founded in 2000 by the American Philosophical Society, The Franklin Institute, the Library Company of Philadelphia, the Philadelphia Museum of Art, and the University of Pennsylvania.