"This Cottage of Our Own": Archeology at the Adams Birthplaces

John Adams—signer of the Declaration of Independence, primary author of the Massachusetts Constitution, and the second president of the United States—was born in a small cottage in Braintree, Massachusetts on October 30, 1735. In 1744, when his son John was nine years old, Deacon John bought a second property next door to his family home. This second house was where John Adams and his wife Abigail would eventually raise their own children. Their son John Quincy Adams, the sixth President of the United States, was born there in 1767. John's law office was in the front corner room, the same place that he drafted the Massachusetts Constitution in 1779.
After their father died, John purchased the original Adams family home from his brother Peter. During the 1770's, John and Abigail used the property for dairying work, housing friends and farm help, and as a shelter for Revolutionary War soldiers and refugees. Over the next decade, as John traveled across America and Europe, Abigail managed the Penn's Hill farm and raised their children in the second cottage. When she and her daughter Nabby followed John to Europe, Abigail rented both houses to tenants. When the Adamses returned to Massachusetts, they settled at the newly-bought Peacefield mansion just over a mile away from their original homes.
In 1803, John Quincy Adams bought both cottages from his father. Over the next two summers, he, his wife Louisa Catherine, and their children occupied the cottage where John Quincy was born while he served as Massachusetts Senator. Following them, several tenants, including shoemakers and an apothecary, lived in the houses over the course of the 19th century. These individuals converted spaces within the Adams homes into offices, workshops, storefronts, and even a school. The land immediately surrounding the houses also changed dramatically as the town developed around them.
The City of Quincy acquired both properties in 1940 and passed them to the National Park Service in 1979. Two archeological investigations of the birthplaces were done in the following years. During these excavations, archeologists uncovered both architectural features and artifacts. Their findings help tell the story of how these two households and their surroundings grew, changed, and developed over the course of three centuries.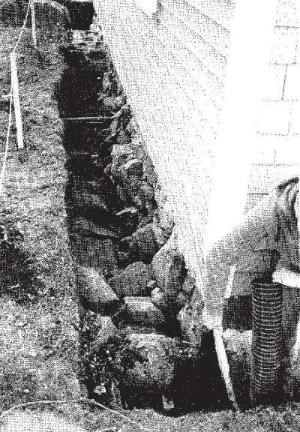 Archeologists compared the architectural evidence they saw in the ground with historical photographs to help identify what type of buildings were present around the two birthplaces, and when they were constructed and dismantled. The remnants of three sheds were identified, two of which were likely built during the early 19th century when John Quincy Adams owned the properties. A cellar hole possibly dating from that period was uncovered as well.
Recovered artifacts included architectural remnants such as nails and window glass, as well as domestic debris such as broken pieces of ceramic vessels, bottle glass, and even animal bones discarded after meals. While none of these artifacts can be directly traced to the Adamses, they were certainly used at some point throughout the 18th and 19th centuries and help demonstrate the daily lives of individuals during those times. The location of middens (refuse piles) around the houses illustrate the past practice of throwing and sweeping debris out into surrounding yard spaces. Sherds (pieces) of stoneware, whiteware, and other ceramics show the types of vessels families used daily during meals, while a high number of sherds recovered in a John Adams Birthplace room show its use first as a kitchen then a parlor where families and guests would gather, eat, and drink (Towle and Hsu, 3). Pieces of smoking pipes and children's doll fragments are also signs of leisure time.
Archeologists also uncovered signs of the businesses conducted in and around the Adams houses. Following Deacon John, several other shoemakers occupied the two properties. Archeologists identified pieces of shoes and boots hidden in the walls of the John Quincy Adams Birthplace—reminders of the Curtis brothers' shoemaking shop established there in the 1820's—as well as the remains of a shed that may have been used as a bootmaking workshop.
Together, these artifacts and features demonstrate not only of what life was like for the Adams family members and their contemporaries but also for those who came after them. The materials these individuals left behind help archeologists understand not only who was living at the homes and when, but also how these individuals and their households changed and transformed over time.
Resources
Adams National Historic Park
. National Park Service.
National Park Getaway: Adams National Historical Park
. National Park Service.
MacMahon, Darcie A. Archeological Collections Management at Adams National Historic Site, Massachusetts. ACMP Series No. 9. Archeology Branch, Cultural Resources Center, North Atlantic Regional Office, National Park Service, 1991.
Towle, Linda and Dick Ping Hsu. Archeological Monitoring at Adams' Birthplaces, Quincy, Massachusetts. Division of Cultural Resources, North Atlantic Region, National Park Service, 1983.
Last updated: November 14, 2018