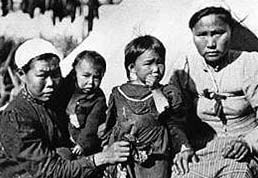 Kenai Fjords is a place of great change. From the glaciers to the seasons, and from seismic activity to weather and plants or other living things, nothing here stays the same.
The Alutiiq (Sugpiaq) Native people survived here for centuries by following the natural rhythms of Kenai Fjords. They were tuned in to the ongoing changes of this place they called home. Through an acute awareness, they were able to adapt and survive for centuries in a place that later people would dismiss as rugged and inhospitable.
Indeed, some of these extremes would turn out to be their very key to survival. Although Kenai Fjords is not a place where domestication of plants and animals would be widespread, the cycles of nature would lay out an abundant table for its inhabitants. This bounty did not come without great effort, however, and it was available only to those willing to work in concert with others.