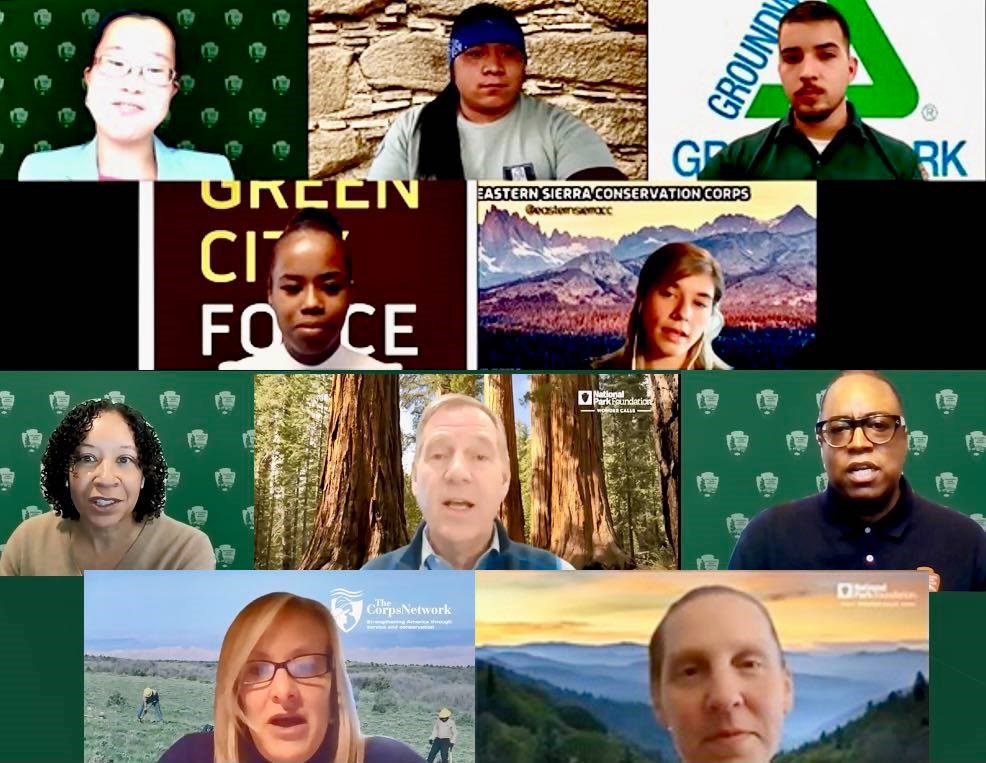 To celebrate National Park Week and Earth Day, the
National Park Service Youth Programs Division
co-hosted a virtual event on April 22, 2021 with
The Corps Network
(TCN) and the
National Park Foundation
(NPF), discussing "
The Future of Conservation: Engaging the Next Generation of Public Land Leaders
." A panel of young leaders shared their passion and personal involvement with the conservation movement, and the impacts and benefits service corps provide to national parks, participants, and local communities.
The event brought in 221 Zoom attendees and 2.9K viewers on the NPS Youth & Young Adult Programs'
Facebook page
(now up to 6.9K viewers). Following the event, a recording was published on the
National Park Service's YouTube Channel
, which currently has 460 views.
Lena McDowall, the Deputy Director for Management and Administration at the National Park Service (NPS), provided encouraging words to future public land leaders noting that she started her conservation career as a Student Conservation Association intern with NPS' Business Plan Internship program. "I'm hopeful that many of you, and many service and corps members will be inspired by their work and parks and public lands to join us as Park Service employees someday...and to make natural and cultural resource preservation your life's work, even if it's…in one of the many other organizations that are committed to those goals," she said.
On the importance of service corps, Will Shafroth, the President and CEO at the NPF, explained that the work they do is not only about making park trails more appealing, or restoring buildings, it is also about creating more opportunities for diverse leaders to experience careers in the outdoors. He noted, "This year, we're excited to be investing more than $4 million in 60 crews across the country. It's an amazing effort and something that continues to inspire more and more of our donors to support." The NPF supports service corps programs across the country, including all-women crews, American Sign Language crews, Native American crews, LGBTQ+ crews, and others.
Mary Ellen Sprenkel, the President and CEO at TCN, remarked that it represents nearly 140 corps, operating all across the country and in communities, and engages approximately 20,000 young people and corps members a year. Reflecting on how the COVID-19 pandemic has impacted service corps, she shared that despite the unprecedented challenges of the past year, corps across the country still "planted millions of trees and restored enough habitat to cover an area equal to the size of the state of Rhode Island. They built or improved more than 12,000 miles of trail, which would be like walking to New York and back twice, and much, much more."
With the Biden Administration's new Civilian Climate Corps initiative, George McDonald, the Chief of Youth Programs and Experienced Services Program Division at the NPS, pointed out how service corps can play an important role in addressing the devastating impacts of climate change through mitigation projects; resiliency projects; wildlife protection; removal of invasive species; fighting wildfires; and ensuring that every person has access to safe outdoor green spaces, as well protecting the cultural landscapes of our country. "There are so many challenges that are facing our country right now, but the future can be very bright, if you all take ownership and leadership," he stressed.
During the panel discussion, moderated by Lucy Hurlbut, a corps member with the
Greening Youth Foundation
, who works with NPS' Youth Programs Division on digital communications, four members of the corps community shared their stories and advice for future leaders in the conservation movement.
When asked how they got involved with their corps, Zarek Joe, a current corps member with the
Ancestral Lands Conservation Corps
Program through
Conservation Legacy
, shared that he was a troubled youth noting, "I first started off in the Ancestral Lands Hiking Club, and ever since then, I kept coming back and I've loved it…It helped me mentally, physically, and spiritually being out in the mountains."
Joseph Cordova, an alum of
Rocky Mountain Youth Corps
, who is currently the Director of Youth Programs at
Groundwork Denver
stated, "At age 18, I attended a job fair in high school. Being a youth from the inner city and a low-income family, I took a leap of faith and spent my summer away from my family, living in
Rocky Mountain National Park
, building trails, and working on historical restoration projects."
Sadiqua Minor, a former AmeriCorps member and current Program Coordinator at
Green City Force
, empathized with Joe admitting, "Honestly, I was also troubled. I was fresh out of foster care. I had gotten an apartment in NYCHA [New York City Housing Authority]…I definitely went in for the benefits - the money for school, because I got my GED. They offered money for college…transportation to get to work, and money for working."
Annina Wells, a corps member of
Eastern Sierra Conservation Corps
, who started at California Conservation Corps, where she worked at
Sequoia and Kings Canyon National Parks
, described the challenges of "being someone who is often identified as a woman [and] being in spaces where being queer isn't necessarily accepted all the time…I found Eastern Sierra Conservation Corps, which provides affinity spaces for priority populations for women, LGBTQIA2+, and BIPOC communities."
On how their life has been impacted by their work on service corps projects and personal growth they have seen, Cordova noted, "Service Corps projects have taught me…everything from building roofs in national parks with only hand tools, to installing thermostats for a low-income, elderly couple. I've come to find that I'm a natural leader and developed a love for learning and teaching hard skills on to youth - preparing them for future careers, as well as being an ambassador for underserved and low-income youth and families."
Considering next steps to take for the service and conservation movement, and how experiences can be passed on to future generations, Joe talked about the importance of belongingness; Cordova stressed the importance of serving youth in the inner cities; Minor proposed starting discussions about conservation in elementary school; and Wells pointed out that service corps provide opportunities to get outdoors and be paid.
Themes that were explored during the Q&A session included the importance of having open, honest discussions about diversity; showing respect to individuals of all ages and levels to bring communities closer; communicating what conservation means in a clear, simple way; and the health benefits there are to connecting with nature.
The corps panelists shared some of the tools that their service corps provided them, such as taking courses, learning how to manage conflict, navigating a topographic map, starting a fire or preventing a wildfire, and other survival skills. For Cordova, one of the best skills he learned was taking ownership in our parks, because "these are public lands, and even though we are the minority in these lands, we have just as much say, and just as much participation in these lands."
On the importance of diversity, Wells pointed out that it very important for corps members to get training on de-escalation, as well as on conflict resolution and mediation, because there are people who are "uncomfortable with diversity, who are uncomfortable with difference, and it can happen at any point in a city, [or] in a national park."
When asked about how service corps programming is organized and the way forward, Lisa McClure at NPF, McDonald, and Sprenkel explained how the service corps movement is supported through public-private partnerships. They agreed that moving forward, the hope would be for resources to be expanded, so that more diverse individuals can have access to these opportunities that can support future career aspirations.
Many groups are underrepresented in the conservation movement. However, they do have a voice, and each and every voice does matter. "The future of conservation depends on all of us working together, and supporting programs such as service corps. National parks are the landscapes in which we build community, learn about ourselves and one another, reflect on the past and what's going on in our lives today, and dream about the future," concluded Shafroth.
Have a question about Youth or Young Adult Programs? Please
e-mail us
. Learn more about what we do here. Be sure to follow us on Facebook, Twitter, and Instagram.