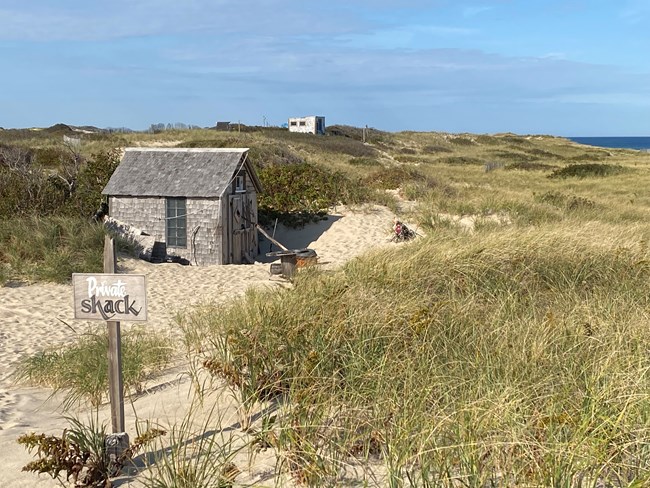 The National Park Service (NPS) has issued a Request for Proposals (RFPs) to lease eight historic properties within Cape Cod National Seashore (CCNS). The eight historic dune shacks, located within the Peaked Hill Bars National Register of Historic District in Provincetown and Truro, are offered under a lease term of 10 years. Proposals for the dune shacks must be submitted by July 3, 2023 at 5 pm EST.
The opportunity to submit a proposal to lease any of these eight properties is competitive and is open to all interested persons and businesses.
The dune shack properties will be leased "as-is with all faults." The lessee is expected to occupy and maintain the dune shack as a traditional dune shack. The lessee will be responsible for the cost and implementation of all repairs, replacements needed to occupy the buildings including items such as roof replacement, carpentry repairs and addressing any/all fire and life safety code issues. The lessee will be required to perform routine maintenance.
The dune shacks are small, weathered, and often built on pilings to adjust for the ever-moving sand dunes surrounding these properties. The houses are remote, with no paved roads leading to them. Access is required by foot or by 4x4 vehicle along the park's Oversand corridor. There is limited running water, plumbing, and electrical fixtures in most of the shacks.
Site visit
Due to the high level of interest from the public, appointment requests must be received in writing by 5:00pm on June 6th, 2023. Please be sure to send these requests to: caco_leasing@nps.gov. Appointment requests received any time AFTER 5:00pm on June 6th, 2023, will not be scheduled.
This is not a tour but a set appointment. Please be sure to specify the name of the shack you would like to see. If you are interested to see more than one shack, this will require more than one appointment.
As a reminder, a confirmed appointment is required. Once confirmed, you will receive an email confirmation with important appointment logistics related to that specific appointment.
Questions and answers
Offerors must submit questions via email to caco_leasing@nps.gov no later than June 25, 2023. All responses will be provided in writing and made available to all offerors by posting on the above website.
Request for proposal, attachments, and additional information
The Request for Proposal can also be found at https://sam.gov/content/home. More information about Cape Cod National Seashore can be found at https://www.nps.gov/caco/index.htm