Backpacking During 2017 Road Construction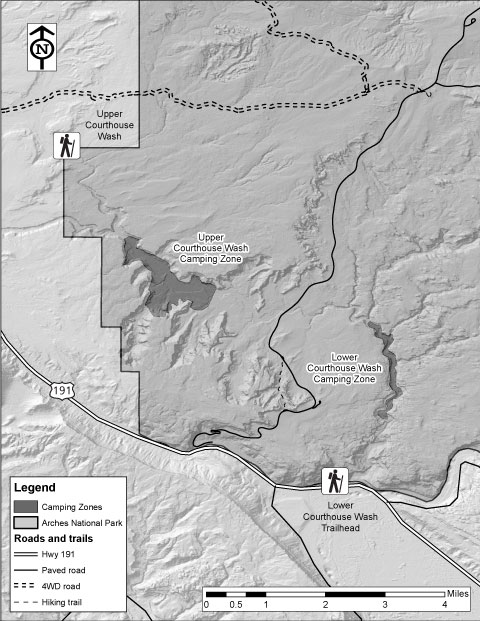 Road crews will be working on park roads through November 30, 2017. All paved roads close nightly, Sunday through Thursday. During construction, limited overnight backpacking is allowed in specific Courthouse Wash zones (see map).

Due to safety considerations, you may not leave a vehicle in the park overnight.
You can get a permit up to seven days before the start of your trip at Arches Visitor Center, first-come, first-served.
There are three permits available nightly.
Maximum group size: seven people per permit.
There is no fee for the permit during the construction period.

We will implement new guidelines for backcountry camping after road construction is completed.

Download backpacking information. [1.3 MB PDF file]
Where else can I backpack?
You can backpack on much of the public land adjacent to Arches National Park, such as areas administered by the Bureau of Land Management and the US Forest Service, and at Canyonlands National Park. Check each agency's website for further information about regulations and permits.
For information about vehicle camping at Arches, visit the camping page.
For information about vehicle camping around Moab, visit www.discovermoab.com or download the Moab Campground Information Map [239k PDF file] showing all the public campgrounds near Moab.


Last updated: May 15, 2017