Backpacking in Winter 2017-2018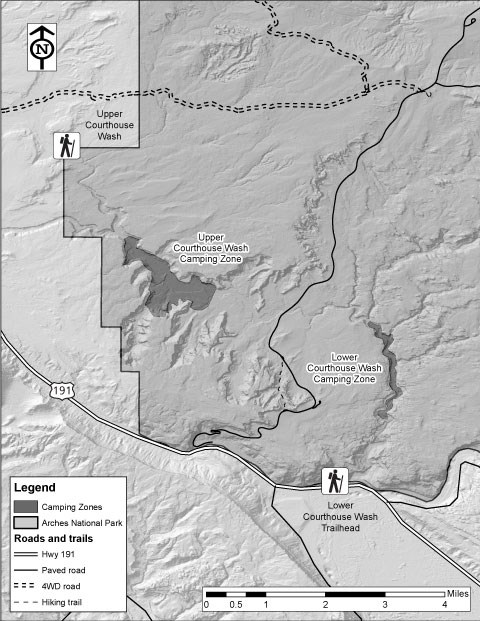 Overnight backpacking permits are available through winter 2017-2018 in specific Courthouse Wash zones (see map).
You can get a permit up to seven days before the start of your trip at Arches Visitor Center, first-come, first-served.
There are three permits available nightly.
Maximum group size: seven people per permit.
There is no fee for the permit.
We will implement new guidelines for backcountry camping in early spring 2018.
How to reach Courthouse Wash Backcountry Zones
You may park vehicles in the paved parking area along the main park road on the northeast side of the bridge over Courthouse Wash or approximately ½ mile west of the Colorado River on US 191 (see map). You can also reach the northern reaches of the wash near the western park boundary. Please seek out specific information from maps and other sources for these additional routes.
Courthouse Wash Backcountry Use Requirements
All backcountry use and vehicle access is at your own risk. Plan ahead and prepare for backcountry conditions. Routes are not trails and are unmarked.
You are responsible for knowing and abiding by all park rules and regulations including those outlined on your backcountry permit.
You may camp in designated zones only (see map). Campsites must be at least one mile from both the Arches park road and US 191. Set up your campsite in low-impact areas such as on slickrock or sandy areas void of undisturbed soil and vegetation.
All overnight users must carry and use landfill-safe human waste disposal bags (e.g. PETT, Wag Bag, or Rest Stop II). Bags must use dry chemicals/enzymes to render solid human waste into non hazardous products that can be disposed in permitted landfills. You must carry human waste bags out of the backcountry and dispose them only in designated trash containers.
Secure your food and trash when not closely attended. Ravens, rodents, and other wildlife are easily attracted to food and trash.
Courthouse Wash is an active flowing drainage with unpredictable flow. Take caution when camping in a dry wash and never try to cross a wash during flood conditions.


Last updated: December 14, 2017