Planning for a Hike, page 2
The items that are colored below are the items you will need for your hike.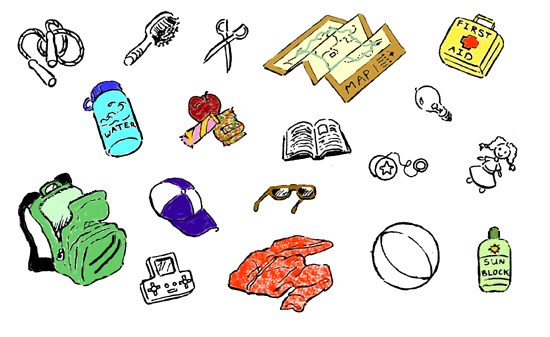 You definitely need water. The park recommends that each person drinks 4 quarts or 4 liters of water per day. You don't want to get dehydrated.
Food is good to have along, too. Certain foods can give you energy and replace the electrolytes that you lose when you sweat.
A map is important, so you don't get lost. Review the map before you hike, so you understand it.
You need protection from the sun, so you need to wear sun block, sunglasses and a hat.
A light jacket or long-sleeved shirt is good to have in case the weather changes or you need more sun protection for your arms.
A first aid kit is important to have along in case you get hurt.
And last, but not least, you need a backpack to carry all of these items in.
Have a fun and safe hike!
Last updated: January 30, 2016