Media For Loan
Field Trip in a Box: Microorganisms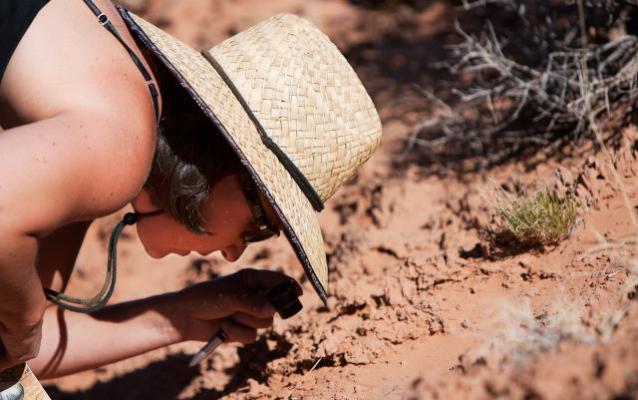 Theme
Microorganisms play a vital role in the high desert ecosystem.
 
Focus 
Lichens and Soil Crusts
 
Location Suggestions
• Balanced Rock Picnic Area (best location)
• Windows Primitive Loop (behind North Window)
• La Sal Mountains Overlook (only for Lichen station)
 
Learning Stations
Each station is designed for up to 15 students and requires one hour and one instructor. For larger groups we recommend dividing your group and teaching stations simultaneously, then having students switch stations.

Optional Prep Activity (to be used if students are unfamiliar with microorganisms): Mystery Photographs - Worms, hairy hotdogs and pizzas! These are what some microorganisms look like under the microscope. Work in teams, and match the photographs to their descriptions. 

1. Lichens Up Close - Dramatize the roles and structure of lichens living on the sandstone, and scientifically investigate whether they grow better in sun or shade.

2. Cryptos Up Close - Take a close-up look at the structure and function of biological soil crust, and use scientific methods for measuring soil bump heights.

Extension Back to School (assessment activity):
Tell Me About It - Students work together to create brochures to educate others on the microscopic life found at Arches National Park.
 
Borrowing Instructions
To request a Field Trip in a Box, please submit the following information:
Teacher/school information, including school address, phone number, and email address
Which box you would like to borrow
Your preferred dates, both first choice and alternate choice
Send us an email with your request.
You must request a Field Trip in a Box at least two weeks before your park visit. There is only one box available for each topic.
When you arrive at the park, check out the box at Arches Visitor Center during business hours, and return the box before you leave the park.
If you check out a Field Trip in a Box, you will be responsible for damage to its contents.
Details
Subject:

Biology: Animals, Biology: Plants, Ecology

Type:

Other

type:

Media For Loan
Last updated: December 19, 2017