Lesson Plan
Desert Adaptations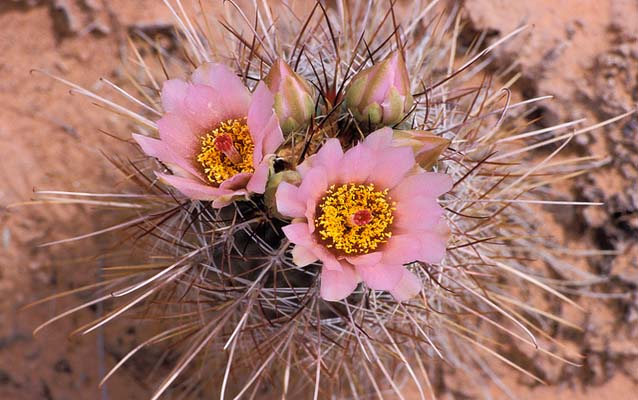 Grade Level:

Second Grade

Subject:

Biology: Animals, Biology: Plants

Duration:

30 minutes

Group Size:

Up to 36

Setting:

outdoors

National/State Standards:

Utah State Science Core Curriculum Topic: Standard 4 – Life Science: Students will gain an understanding of Life Science through the study of
changes in organisms over time and the nature of living things.

Keywords:

echolocation, seed dispersal, beak, adaptations, lizards
Overview
Students observe and compare different methods of seed dispersal. They learn about bat behavior and anatomy, and explore how a lizard's skin helps it survive. Lastly, they discover the link between the shape of a bird's beak and the food it can eat.
Objective(s)
PRE-TRIP ACTIVITY
The Desert Habitat
Objectives
Students will be able to:
a. List three characteristics of a desert environment
b. Describe two parts that can help a plant or animal survive in the desert
STATION #1
Flying Away
Objectives
Students will be able to:
a. Name two ways seeds are dispersed
b. Identify which type of seed dispersal travels the farthest in the desert
c. Understand science experiments require specific steps
STATION #2
Where Is My Dinner?
Objectives
Students will be able to:
a. Name a part bats use to find food
b. Describe how a bat's ears allow them to travel in the dark
STATION #3
Saved by My Skin
Objectives
Students will be able to:
a. List two different types of animal skin
b. Describe two ways an animal's skin helps it to survive
STATION #4
What Can I Eat?
Objectives
Students will be able to:
a.Describe how beak shape determines diet.
POST-TRIP ACTIVITY
Find My Home
Objectives
Students will be able to:
a. List one characteristic of three different local environments
b. Identify at least one plant or animal part that is suitable for a specific environment
Background
Plants sprout from seeds, grow, and produce flowers, which, if pollinated, produce more seeds. Plants need sun, soil, and water in order to make their own food and grow. Insects, hummingbirds, and bats inadvertently pollinate flowers while seeking nectar. Some plants, such as coniferous trees, rely on wind to distribute pollen.
Seeds are an adaptation that helps plants disperse and germinate effectively. A seed is made of a tough outer coating to protect the seed from the elements, a plant embryo, and a small food supply to help the young plant develop quickly. If all seeds from every plant dropped straight down and sprouted, there would be overcrowding and no means of an individual plant to spread its genes over a larger area. Seed dispersal is an adaptation for plants because it allows a plant's offspring to spread out and not compete with each other for essential resources.
There are many different mechanisms for seed dispersal, but they can be broken down into four broad categories: wind dispersal, water dispersal, externals "hitchhikers", and internal "hitchhikers". Wind-dispersed seeds are often very light and have a large surface area or cotton-like "puff' to help them catch the wind and travel. Cottonwood "puffs" and maple "helicopters" are two very common wind-dispersed seeds. Water-dispersed seeds often have a seed coat that is very light and porous to add buoyancy to the seed and help it float on waves or currents. For example, the outer husk of a coconut is very light and helps it float in the ocean.
"Hitchhiker" seeds are seeds that rely on animals for dispersal. External hitchikers usually have hooks, spines, or sticky substances to help them attach to an animal as it brushes by the parent plant. After a while, the seed will fall often, often miles from the parent plant. Instead of relying on animals to brush against them, plants with internal hitchhiker seeds actively try to get animals to eat their seeds by enclosing them in a nutritious, good-tasting fruit. Inside the animal's body, the outer fruit is digested, but the seeds are untouched. When the animal eliminates its solid waste, the seeds are dropped miles away from the parent plant and have a pile of natural fertilizer to help them grow. Camouflage is a way of blending into the environment so an animal is not noticed. Camouflage does not make an animal invisible, but effectively hides it in plain sight. Camouflage is often thought of as green blotches, but more often the color and pattern of an animal's fur often reflects the environment the animal lives in. For example, the stripes on a zebra help it blend in to the similarly patterned grasses and shadows of the savannah it lives in. In the desert many animals are brown to blend into the brownish-red sand and rocks.
Mammals are endotherms, or warm-blooded, meaning they generate their own heat. In addition to skin, all mammals also have the adaptation of an outer layer offur or hair. Many have two layers of fur that covers all of their body. The downy under hair or ground coat is a dense layer of short curly hairs. The guard hair is a layer of long course hairs that protect the under layer. It is often water repellent and gives the animal its distinctive color. Fur has serves as insulation, especially in animals that live in cold environments.
Rather than generating heat, fur traps heat that is generated by a mammal's metabolism, keeping the animal warm. It is much like how humans use thick blankets and clothes to trap our own body heat to stay warm. Many animals shed excess fur in the spring to prepare for hot summer temperatures and grow extra fur in the fall to prepare for cold winter temperatures. Fur also does a number of other things for mammals. It protects the skin from sun and abrasion, sends sensory messages to the brain, and provides insulation from cold and heat. Pigments in the inner layers of hair filter harmful ultraviolet radiation just like sunscreen, and may help regulate body temperature. Dark hairs absorb heat, warming an animal, while light colors reflect sun, keeping an animal cooler.
The beak or bill on a bird is used for many things including eating, grooming, feeding young, manipulating objects, fighting or courtship. Although all beaks differ in size and shape each consists of two bones, the upper and lower mandible, covered in a thin sheath known as the rhamphotheca. Some species of birds also have nasal holes in their beak. Much like teeth, beaks are diverse and well-adapted to a bird's environment and food choice. Seed eaters like sparrows and cardinals have short, thick conical bills for cracking seed. Birds of prey like hawks and owls have sharp, curved bills for tearing meat. Woodpeckers have bills that are long and chisel-like for boring into wood to eat insects. Hummingbird bills are long and slender for probing flowers for nectar. Birds like herons and kingfishers have spear-like bills adapted for fishing. Insect eaters like warblers have thin, tweezer-like pointed bills.
Bats are small, flying rodents that are mostly nocturnal. Unlike bird wings, which are mostly made from specially adapted arm bones, bat wings are specially adapted hands with a membrane connecting the "fingers". Bats are the only mammal capable of sustained flight. 70 percent of bats species including all the bats in Utah eat insects. Of the rest, most eat fruits although there are some that eat fish and vampire bats are parasitic to other mammals. Bats are nocturnal animals. They sleep during the day in shelters such as caves or empty buildings. This enables them to hide from predators while they are asleep and vulnerable.
Another adaptation unique to some bats is echolocation, an ability that helps bats navigate and find food in the dark. Echolocation is based on the principle of an echo. An echo is created when sound waves bounce off an object and are received by an animal's ears. Humans can create echoes by yelling against a canyon wall. Bats are constantly creating echoes by sending out ultrasonic pulses through its nose and mouth. These pulses can be as fast as 500 per second and are too high pitched for humans to hear. These sound waves bounce off of both in sects and other features in the environment (trees, rocks, etc.). When the bats hear these echoes, they are able to tell the location of the object the waves bounced off of. If it bounced off an in sect, they can chase it for food. Bats are constantly "scanning" their environment through echolocation. Once they recognize an insect, they dramatically in crease how often they chirp to gather more detail about the location of the in sect. lf a chirp bounces off an object, they know to avoid it while flying.
Procedure
PRE-TRIP ACTIVITY
The Desert Habitat
Materials
Desert Trip (Barbara A. Steiner), baggies with various animal pictures, large desert pictures
Procedure
At their reading circle, remind students what the word "habitat" means and ask them what type of habitat Moab is. Tell them that we will be learning about the desert environment and how animals survive here on our field trip.
Tell them that you are going to read a book about the desert. Ask them to pay special attention to what the desert looks and feels like. Read Desert Trip and when you are done ask them if the pictures reminded them of this area.
Have students return to their desks and have them remind you what type of habitat we live in. Write "Desert" on the left side of the board and tell them that you need their help making a list of all the characteristics of a desert. Help student brainstorm ideas and write them on the board under Desert as they are said. Make sure you have all the key desert characteristics: dry, hot days, cold nights, spread out plants, sandy, rocky.
Ask students if this seems like an easy or hard place to live. Explain that desert animals and plants have parts that help them survive in this environment. Ask them what an animal would need to do to survive there (stay cool, save water, blend in). Explain that desert animals have parts that help them do these jobs. Write "Parts" on the right side of the board. Go through each desert characteristic and have students help you come up with parts that might help an animal survive that stress (e.g. to survive in hot temperatures an animal might have less fur).
Hand partners or table groups a baggie of animal pictures from different environments and a large picture of the desert. Tell them that they need to work together to find the animals that could survive in the desert by looking at their parts. If they think an animal would survive in the desert they should place on to the desert picture. Walk around the room and help guide students on looking at parts and discussing them with their groups. When everyone is done they can hold up their desert pictures and as a class you can discuss any animals that were confusing.
Tell them that on our field trip we are going to talk about parts animals and plants use to survive in the desert. Go over expectations and the items that students need for the field trip. Remind students there are no building type bathrooms where they are going. Tell them they may want to discuss this with their parents.
STATION #1
Flying Away
Materials
Scientific method flipchart; clipboard; marker or crayon; copies of blank seed graph; windblown seeds (cottonwood puffs); water seeds (sunflower seeds or floating toy); hitchhikers (cocklebur or fake seeds w/ velcro); how seeds spread poster; velcro pictures of seeds; stopwatch; calculator, examples of seeds.
Procedure
Have students sit on blanket under cottonwood tree. Have students imagine the overcrowding there would be if all seeds dropped straight down from the parent plant. Discuss the environmental conditions that a seed has to live within the high desert of southeastern Utah. Use the How Seeds Spread poster and example of traveling seeds to explain the four different methods of dispersal: wind, hitchhiking on animals, floating on water, and passing through digestive systems of other animals. (The inside hitchhiker method provides not only transportation, but fertilization). As you discuss each seed type, show students an example of a windblown, a hitchhiker and a floating seed.
Tell students that they are going to do a science experiment. Ask students if they have ever done a science experiment before? Explain that scientists use a specific set of steps to investigate an answer. Tell students that this is called the "scientific method." Show students the Scientific Method flip cards and have them say the words "scientific method." Go through the steps with the students using the example question "What did I bring for lunch today?"
Use the flip chart again to work through the steps of their actual question, "Which type of seed travels the farthest in the desert?" At the prediction card and have everyone make a guess.
Tell students that, for our procedure we are going to line up shoulder to shoulder and for each seed type we will let them travel for 15 seconds. After 15 seconds we will count how many steps the seed traveled from our starting place. Demonstrate what a normal step is and how to walk back in a straight line.
Start with windblown seeds. Have students line up shoulder to shoulder at the starting line (if it is windy have their backs to the wind). When you hand each student a seed tell them to close their hands so that it can blow away before you start the time. When everyone has a seed tell them to put their hands up and let go when you say go. They should follow their seed and freeze when you say stop or when their seed touches the ground. If it is not windy, students can work in pairs and create wind by blowing on their seed. Have students pick up their seeds and count the number of steps it takes them to get back to the starting line (remind them what one step is). Once everyone is back at the starting line, tally up the total number of steps all the seeds flew and draw on the graph.
Return to the blanked and give students a hitchhiker seed. Then explain that we do not want to let these seeds loose in the park, so collect the seeds and give students a picture of hitchhiker seed to stick onto their clothing. Give boundaries and ask crawl on all fours until the seed falls off or time stops. Have them walk back to the blanket and count their steps, tally and graph the results.
For water seeds, have students drop their seed in the creek, follow it and count their steps. Tell students that some of their seeds might sink and they will not walk at all A parent can stand at other end to serve as a boundary and collect seeds that make it that far. Tell them to freeze wherever they are after 15 seconds. Tally and graph the results.
Use the bar graph to compare their distances for each seed type and discuss the results. Ask students why one seed type traveled farther than others. Ask them about which seed might be best suited for the desert. Talk about how often there is water vs. wind and whether or not there are a lot of animals around to carry seeds. Ask them which type of seeds they would expect to see most in the desert.
Tell students that the last part of an experiment is a conclusion. Discuss results. Have students look around and ask why wind and hitchhiker seeds might more common in the desert.
If time allows, show students other seeds and ask them to predict if they would travel very far in the desert.
STATION #2
Where Is My Dinner?
Materials
Nightsong (Berk/Long); Pictures of local bats with descriptions; Headband w/ attached bat ears; blindfold; tape measure; nametags (1 bat; 1 moth); echolocation poster
Procedure
Read the students the book Nightsong. Discuss the characteristics of bats the book mentions, i/e sleep hanging upside down, fly at night, what they eat. Discuss how in just like in the book, the bats that live in Utah eat mostly bugs.
Ask students how they think animals find food to eat. Discuss their answers and help them come up with a list of senses that animals rely on to find food (smell, sound, sight, touch, taste). Remind them that bats are active at night. Discuss how the bat in the book found food. Use the "echolocation" poster to explain how echolocation works and explain bats use it to find bugs to eat and to avoid flying into objects. Ask students if they have ever made an echo off the rocks? Get up and try it as a whole group.
Ask students if they think the bat's sound might bounce off things other than bugs in the desert. Tell them that bats use the echoes from objects like rocks and plants to help them avoid flying into things in the dark (compare to waking up in the middle of the night and trying to find something without bumping into the walls). Have students hold their hands up to their ears while you are talking. Ask them if your voice was louder when their hands were up. Ask them if they noticed the size of Chiro's ears.
Tell students that we are going to try an experiment to see if big ears will help a bat catch its food faster. Have students stand in a circle with their arms out. Choose one student to be a bat and one student to be a moth. Give each student a nametag (the bat will also be blindfolded) and have them come to the center of the circle. The remaining students will remain outside the circle. Tell them that it is their job to keep the bat and moth safe by keeping them inside the circle. When you say go, the bat and moth will move around the circle and the bat will try to tag the moth.

Explain that this game is kind of like Marco Polo, using voices to simulate echolocation. Every time the bat calls out "bat", the moth must reply "moth" until the bat tags the moth. If the bat nears the canyon wall kids should respond "wall." Play a few rounds with different bats and moths.
Return to the blanket and give each student a card with information about a local bat. After students have read their card, have them show the picture to the group, share the name of the bat and describe what it eats. Use the tape measure to show how big each bat really is by measuring similar size body parts on students (like their arms). Tell students a nursing little brown bat mother can eat more than her body weight nightly (up to 4,500 insects). Have students guess many peanut butter and jelly sandwiches would the average second grader have to eat each night to catch up with this mama bat? Figure out the answer with students.
Fun Bat Facts
Knees are backwards or sideways to feet.. .. They can't walk upright
Wings are made of skin and same bones as our hands
Beeps are high pitched- Too high for adults but some kids can hear it
Little Brown Bats can catch up to 600 mosquitoes in 1 hour
A single little brown bat (myotis) can eat up to 1,000 mosquitoes in a single hour,and is one of the world's longest-lived mammals for its size, with life spans of almost 40 years.
Vampire bats adopt orphans, and are one of the few mammals known to risk their own lives to share food with less fortunate roost-mates.
The 30 million Mexican free-tailed bats can fly at speeds of more than 60 miles per hour.
Bats are very clean animals, and groom themselves almost constantly (when not eating or sleeping) to keep their fur soft and clean, like tiny cats.
The world's smallest mammal is the bumblebee bat of Thailand which weighs about as much as a dime and has a one-inch wingspan.
The world's largest bat is the Giant Golden-crowned flying fox from Indonesia. Its wingspan can be up to 6 feet and it eats fruit.
STATION #3
Saved by My Skin
Materials
Samples of different kinds of fur; lizard poster; piece of snake skin (if available at interp office),pictures of furry desert animals; animal cutouts
Procedure
Have students look at the clothes they are wearing. Ask them if sometimes when they leave the house someone tells them to put on a coat. Why? Ask them how animals stay warm when they go outside in the winter if they don't have coats?
Show students examples of different animals that live in the desert and samples of their fur. Ask students how fur is like our clothes. Discuss how people use sweaters and coats like an extra layer of fur when we are cold because they help hold warmth in. Show how many animals have different layers of fur, compare to layers humans wear. Discuss whether or not fur would be a helpful thing in the desert. Point out that even in the summer temperatures at night can be cold. Discuss what time of day furry animals are most active in the desert.
Define insulation, and how it can keep things hot or cold. Use examples such as insulation in the walls of their houses, in the walls of a cooler or their lunch box, or the clothes they are wearing. Tell students that these animals have fur that acts like insulation. This works for these animals because they are all mammals and generate their own heat. If students have never thought about how they generate their own heat describe getting into a cold bed at night, but when you wake up the bed is warm and cozy. Ask them where the heat came from? Tell them their blankets are their insulation.
Show students lizard poster and example of reptile skin (if available). Ask students what other differences they notice between the fur and reptile skin. Explain that unlike mammals that generate their own heat, lizards need to absorb heat from the things around them. Reptile skin is thin with little insulation so it is very good at changing temperature quickly. Ask if they have ever seen a lizard out m the middle of a sunny rock.
Tell the students that just like we put on and take off clothes to control our temperature. Lizards move in and out of the sun to control theirs. Have students get up and try moving from the shade to the sun or vice versa.
Tell students that an animal's skin not only helps them stay the right temperature, it helps them to survive in other ways. Show students pictures of all the desert animals you have talked about and ask what they have in common. Ask them if the fact they are all brownish might help them hide from other animals. Talk about camouflage and that in order to survive and not get eaten lots of animals try to blend in with the colors in the habitat.
Tell students they are going to play a game. Bring the group to a new area, point out the boundaries and tell them there are desert animals hiding inside the boundaries. When you say go, the students should spread out and try to count as many of the animals as they can. Students should not touch the animals they find. After a few minutes, bring the group together. Ask students which animals were the hardest to find, and why? Then ask which animals were the easiest to find and why?
Have students look around at what each other are wearing and predict who would be the best camouflaged in this environment. Tell students they are going to get a chance to hide. Give students specific boundaries and tell them when they hide they have to be able to see the seeker at all times. Pick someone to be the predator, have them turn towards you close their eyes and count to ten. The seeker must stay in one place as they look for their classmates. Then have the predator call out the names of the students he/she sees. Once a student's name is called they must immediately get up and return to you. As students are found discuss what made the visible or more camouflaged.
STATION #4
What Can I Eat?
Materials
Teeth picture; pictures of birds with different beak types (Blue Heron, Sparrow, Canyon Wren, Humming Bird); What Birds Eat poster; "beaks" (tweezers, eyedroppers, clothespins, spatulas); plastic cup "stomachs;" "insects" (cut rubber bands, paperclips); "seeds" (marbles); "meat" (bean bags); "nectar" (Colored water in narrow necked water bottle); "fish" (hockey pucks) water bottle for filling nectar trays; stopwatch
Procedure
Tell students they are going to be talking about the shape of teeth. Ask students if all animals need food? Ask them if all animals eat the same things. Have students name a few animals that eat meat and discuss the shape of their teeth. Repeat for plant eating animals. Show them pictures of different kinds of teeth. Talk about how the shape of an animal's teeth determine what type of food it can eat.
Tell students that today they are going to be talking about birds. Ask them if they think the food a bird eats is determined by the shape of its beak? Use the What Birds Eat poster to help students come up with a list of all the different types of food desert birds can eat. Ask them if they think the birds around here eat all those foods. Show students pictures of different local birds and point out their different beak shapes. Ask them if they think some beak types might be better for certain types of food.
Tell students that we are going to do an activity to find out which beak shape is best for each type of food. Turn each student into a local bird by hanging a picture of the bird around their neck. Hand a "bird-beak" to each student, discuss their features and show them how each one works. Compare them to the picture of a real bird's beak on their picture. Make sure that there is at least one of each beak type in the group. Hand each student a small plastic cup that will be their stomach. Tell students that you are going to take them to a feeding area and they will have 30 seconds to pick up as many food items as possible and put them in their cups.
Bring students to the feeding area (a blanket so food doesn't get lost). Show them the different food types. Remind students that they can only use their beak and not their hands or cups to pick up food. Have all the students forage with their beaks for 30 seconds then share their results. Discuss how some birds were better at eating some types of food than others. Have students empty their stomachs back onto the blanket. As an alternative you can have entire group try to eat one type of food at a time.
Have the students forage with their beaks for 30 seconds again this time emphasizing they might want to concentrate on getting the food that is right for them. Discuss if they were more successful when they only tried the right food for them.
Return to the blanket and show the students the "What Birds Eat" poster again. Have students remember what food was best for each type of bird then pass out a beak shapes and have them attach the beaks to the correct bird.
Discuss that knowing what a bird eats, might help you know where to look for it. Ask students for examples. Go for a short looking to look for birds.
BEAKS
Eye Dropper (Hummingbird)
Clothespin (Sparrow)
Tweezers (Canyon Wren)
Spatula (Heron)
POST-TRIP ACTIVITY
Find My Home
Materials
River, mountains & desert environment posters; Desert animals poster; paper; crayons
Procedure
Ask students what "habitat" means. Have them remind you what type of environment our field trip was in and list some of its characteristics. Write "Desert" upon the board and list the characteristics beneath. Review some of the parts desert plants and animals have to help them survive in the desert habitat.
Show students the desert animals poster and have everyone choose one animal they want to impersonate. Show them an example of silently impersonating an animal by making parts the animal has (i.e. big, tall ears for a rabbit and legs to hop on) Have students stand and scoot in their chairs. Partner the students. Give partner #1 thirty seconds to act out their animal and while partner #2 tries to guess what it is. Reverse roles. Have students sit back down. Give a few students the chance to introduce their partner's animal and describe the parts that allowed them to guess.
Remind students that different animals have different parts that help them live in specific places. For example a polar bear has thick warm fur to help it survive in the cold and a lizard has scaly skin to keep water in. Tell students that there are lots of different environments in the world. Ask them to see if they can name any ( e.g. rainforest, ocean, mountains, desert). Once a few different habitats types have been listed, ask them if the same kinds of animals can live in all the different habitats.
Use the environment posters to describe other ecosystems in the Moab area. List on the board characteristics for each one. Desert characteristics might include: hot, dry rocky, sandy, small spread out plants, brown, red. Mountain characteristics might include: cold, snowy, big trees, green, rocky. River characteristics might include: wet, big plants, floods.
Have students draw a picture with a local animal in its habitat. Students should include three aspects of the environment they choose and several adaptations their animal has to survive there. If time, have students show their picture to their neighbor and discuss if the adaptations drawn really would allow the animal to live in the chosen environment.
Extensions
POST-TRIP ACTIVITY
Find My Home
Have students return to their desk and split the class in half. Tell one side that they are tadpoles and the other side that they are adult frogs. When you hold up a description of a body part or environment that their side uses (i.e. a long tail = tadpoles, dry land = adult) everyone on that side should raise their hand. Vary between pictures and descriptions for tadpoles, adult frogs and examples that neither has/needs.
Additional Resources
Amazing Mammals Part II. (1986). Ranger Rick's NatureScope. Washington, DC: National Wildlife Federation.
Birds, Birds Birds. (1989). Ranger Rick's NatureScope. Washington, DC: National Wildlife Federation.
Lingelbach, J. (Ed.). (1986). Hands-on-nature: Information and activities for exploring the environment with children. Woodstock, VT: Vermont Institute of Natural Science.
Project WILD: K-12 activity guide. (2nd ed). (1992). Bethesda, MD: Council for Environmental Education.
Strauss, K. (2006). Tales with Tails: Storytelling the Wonders of the Natural World. Westport, CT: Libraries Unlimited.
Last updated: December 28, 2017