Half Day Trip Information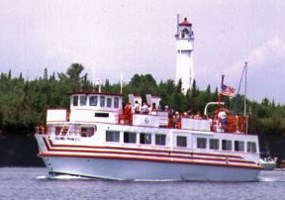 If you have 4 hours or less:
Begin your visit to the Lakeshore by stopping at the Headquarters Visitor Center in Bayfield. A ranger will answer questions and help plan your visit. Be sure to watch the new park film, "On the Edge of Gitchigami" which premiered in January, 2004. Don't miss viewing the lighthouse exhibit, featuring an historic Fresnel lens from the Michigan Island lighthouse.
The Apostle Islands Cruise Service, official concessioner for the National Lakeshore, offers a 55-mile "Grand Tour" of the islands each day at 10:00 a.m., and a variety of other sightseeing cruises, including evening tours. For a complete schedule of this year's cruise offerings, visit their website at apostleislands.com
If you would rather stay on the mainland, visit Little Sand Bay, 13 miles north of Bayfield. At Little Sand Bay you can walk along a sandy beach and view several of the islands. The Hokenson Brothers Fishery, a commercial fishing historic site may be open for exploring. Stop in the visitor center for area orientation.
Travel west from Bayfield 18 miles on Highway 13 to Meyers Road. There you will have access to an extensive beach and the Lakeshore Trail. The trail is a rugged hike that covers two and one half miles to points above the shoreline seacaves. Please remain on the established trail and stay back from the edge at all times.
Evening cruises offer an opportunity to see sunsets, sea caves, and lighthouses. Contact the Apostle Islands Cruise Service for details on these tours offered on Fridays and Saturdays at 5:45 p.m. from July 4 through August 22, 2009.
Last updated: April 10, 2015