Climate Change - Links and Resources
National Park Service Climate Change Links
---
National Park Service Great Lakes Climate Change Resources
Apostle Islands NL Climate Change Scenario Planning Workshop Summary(2015) (1445kb PDF)
Climate Change Podcast (12.3mb mp3 file)
Climate Change Adaptation in the Great Lakes(2014) (3496kb pdf)
Climate Change Impacts to the Great Lakes: Lessons from Lake Superior and the Apostle Islands (3.5mb pdf, 2014)
Understanding the Science of Climate Change - Impacts to the Great Lakes (Summary of scientific knowledge, 2010 - 3mb)
Apostle Islands National Lakeshore Best Management Practices
Apostle Islands National Lakeshore Climate Friendly Action Plan
(Analysis of greenhouse gas emissions and reduction strategy, 2008)
Impacts of Midwest Warming on the Great Lakes National Parks (Brochure, 2007)
---
Other Links and Resources
National Parks in Peril
RMCO has written and released, in partnership with national organizations, several reports detailing the effects of climate disruption on the West and across the country.
Great Lakes National Parks in Peril
(3.79 pdf)
Human disruption of the climate is the greatest threat ever to America's national parks. This report details the particular threats that a changed climate poses to our Great Lakes national parks-those within the lakes or on their shores.
Climate change hits mightiest of the Great Lakes
Climate change isn't just hitting polar bears and melting glaciers. Scientists and advocates say it's affecting the Great Lakes too, even Lake Superior, the lake that's so big, all the other Great Lakes could fit inside with room to spare. WBEZ Chicago Public Radio story.
The delicate and beautiful ecosystems of the national parks, featured prominently in the public's attention because of the agency's centennial in 2016, are increasingly endangered. Climate change also affects park visitors and surrounding communities. Apostle Islands National Lakeshore is featured in this Medill News Service story, along with Yellowstone, Indiana Dunes, and Acadia.
Intergovernmental Panel on Climate Change (IPCC)
http://www.ipcc.ch/publications_and_data/publications_and_data_reports.shtml

Wisconsin Initiative on Climate Change Impacts
http://www.wicci.wisc.edu/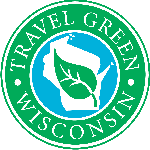 Apostle Islands National Lakeshore has been certified as a Travel Green business since 2006. Travel Green Wisconsin is a voluntary, affordable program that reviews, certifies and recognizes tourism businesses that have made a commitment to continuously improve their operations in order to reduce their environmental and social impact.
Last updated: November 17, 2017