Integrated Environmental Plan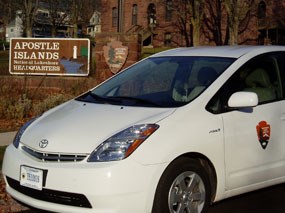 Our Environmental Commitment: Integrating environmental stewardship into all operations

Apostle Islands National Lakeshore is proud to pioneer the Integrated Environmental Plan (IEP). The park's IEP is a unique umbrella tool that organizes and optimizes environmental stewardship initiatives so greening can be accomplished efficiently and effectively.

Why Have a IEP

Federal directives including Presidential Executive Orders, Department of Interior policy and NPS Director's orders require National Parks to implement an Environmental Management System (EMS) that addresses and works to mitigate environmental impacts of park operations and activities such as hazardous materials use, energy use and transportation. The IEP can be thought of as a "Next Generation" Environmental Management System (EMS) - it performs many of the same functions as an EMS but takes into account programs and initiatives that a traditional EMS does not, further consolidating environmental management and demonstrating our commitment to:

Efficient use of taxpayer dollars - The IEP is designed to organize park activities and prevent duplication of efforts to achieve all mandated environmental management goals without wasting precious financial resources.
Effective - Less time is spent on administration of environmental activities and more time is spent accomplishing them.
Excellence - The IEP is creating a culture of environmental excellence at Apostle Islands. The program is moving the park beyond the status quo without placing an extra burden on park staff and resources. Apostle Islands National Lakeshore is dedicated to continuous improvement and leading by example.
How Does An IEP Help Us?

Documents the park's current and future environmental goals for:


Required Initiatives: Regulatory compliance (legal obligations)
Voluntary Commitments: Sustainable initiatives (park programs that go beyond what is legally mandated including greenhouse gas reduction programs such as Climate Friendly Parks)
Specifies who is responsible for goal achievement
Tracks the progress of initiatives with a matrix that details objectives and targets to ensure goals are completed
Establishes a future vision of the park - keeps staff motivated and focused so this vision can be realized over the long term
Ensuring Success - The IEP Matrix

The IEP minimizes the park's administrative burden so park staff can focus on the true greening elements of environmental management. To organize environmental management efforts the park developed a matrix that integrates EMS elements, sustainability initiatives, environmental compliance, and reporting responsibilities into a single IEP matrix using Intranet-based and other electronic resources. All "action items" or environmental goals identified from an environmental program that the park has committed to, such as the park's EMS, Climate Friendly Parks or Executive Orders, are entered into the IEP matrix and then sorted and categorized to generate a unified set of goals for the park. The IEP matrix helps the park identify the highest priority environmental management initiatives. These initiatives are outlined in an IEP management workbook that contains annual environmental goals and objectives; targets and tracks current responsibilities, training requirements and related documents; and records progress to ensure action is taken toward achieving these goals and initiatives.


Apostle Islands Integrated Environmental Plan (IEP): these documents and spreadsheets collectively make up or IEP.
IEP Procedures
IEP Calendar
IEP Impacts Future Vision
IEP Workbook
IEP Legal and Other Requirements
IEP Environmental Stewardship Matrix
Last updated: August 9, 2021