The Greatest Show on the Big Lake
You'd have to go back to 1929 to see anything like the 2013-2014 Apostle Islands light station preservation project. Big happenings at Michigan Island Light: workmen, barges, scaffolding, painters, roofers, sawyers, carpenters, glaziers, and masons, all just busy as beavers. And not just Michigan, but Devils, La Pointe, Outer, and Sand lights too. This is the biggest historic preservation project that Apostle Islands National Lakeshore has ever undertaken, and the biggest re-investment in these historic lights ever made by the federal government. There may NEVER have been a summer this busy at the Apostle Islands' lighthouses.
Local folks and park visitors have heard rumblings about this for several years as the planning, design, and contract preparation work has been underway. The lights will be seeing some old friends, and making some new ones. C3, LLC, a major national construction firm, is the general contractor, supervising an array of subcontractors including KBK Services of Ashland, Wisconsin. KBK has conducted a number of historic preservation projects in the national lakeshore, including the rehabilitation of Raspberry lighthouse. The vessel Outer Island, a veteran of both World War II and over 60 years of local marine construction, has been doing much of the heavy transport. In October of 2012, without too much fanfare, the Outer Island arrived at Michigan Island light to start dropping off materials and get things staged for the 2013 construction season.
Let's grab a hardhat, take a look at those construction drawings, and see what's in store. The really big effort is on Michigan Island. Sawyers have cleared four acres of encroaching trees to partially restore the original light station grounds and viewshed. The old light, keeper's quarters, power house, and assistant keeper's quarters have been re-roofed. The interior of the old light is being rehabilitated for public access including refinished floors, doors, trim, and plaster, with planning under way for new exhibits in 2014. The old light tower is also being repaired and repainted. The new (1929) tower base will have repairs to its windows, plaster, and iron columns. The keeper's quarters will have repairs to its brick and porches, and the assistant keeper's quarters will have window repairs and repainting. Access to the grounds and old light will be improved, as will ventilation in all the major structures. Hazardous materials have been removed, the old tramway is being restored with new ballast and ties, and badly needed repairs have been made to the dock.
Outer Island light will see reroofing, repointing and repainting of its masonry tower; repainting and repair of the lantern; repair to windows, interiors, and repainting of exterior trim on the lighthouse, removal of hazardous materials, and improvements to ventilation. The fog signal building will receive needed foundation and roof repairs and removal of hazardous materials.
Devils Island light tower is undergoing major repair to its concrete footings, while the keeper's and assistant keeper's quarters will see repair to windows, porches, interiors, and repointing the brick, while also improving ventilation. The fog signal building will receive repairs to its exterior and foundation, as well as repainting. Park sawyers have cleared encroaching trees and brush from three acres of grounds.
At Long Island, the La Pointe light tower will also undergo major repairs to its concrete footings and minor repairs to the metal structure. The keeper's quarters will be re-roofed and is also seeing efforts to combat moisture and mold, and improve ventilation. Thinning of trees on the grounds and around structures is also taking place.
Sand Island light is receiving an urgently needed new metal roof and gutter repairs. Plans to repair and refinish floors, repair plaster and repaint the interior, improve ventilation, and partially restore the original station grounds are awaiting future funds.
But preservation efforts won't stop here. The planning team has identified much more work needed at all the lights, probably two to three times more than the project could afford. . While much remains to be done, the work accomplished in 2013-2014 will go a long way towards preserving the "Lights of the Apostles" for years to come.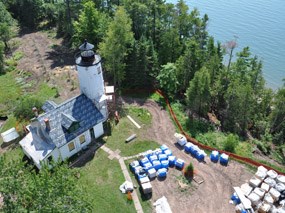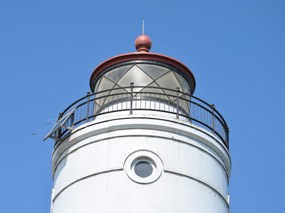 Park May Gain Another Lighthouse
The historic Ashland Harbor Breakwater Light may be added to the park if Congress passes pending legislation sponsored by Rep. Sean Duffy and Sen. Tammy Baldwin.
More...
Article appears in the 2014 Apostle Islands National Lakeshore Newspaper - Around the Archipelago
Last updated: April 10, 2015