Islands of Wonder
At a distance of one to five miles in the lake lie a cluster of wooded islands, which Carver called "The Twelve Apostles." There appears to be fifteen or twenty in number, and they present a very beautiful and picturesque group...
Henry Schoolcraft, 1820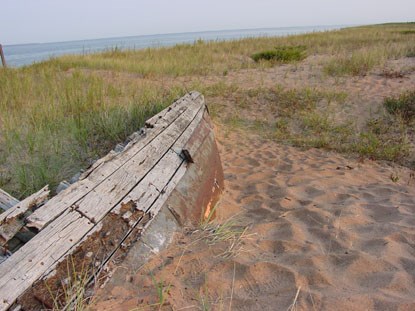 Near the western end of Lake Superior lies a forested archipelago of not twelve, but twenty-two islands called the Apostles. The name probably stems from the desire of 17th century Jesuit missionaries to honor the Apostles by naming a beautiful place after them, rather then from an actual count of islands.
The islands have been carved for over a million years by glacial ice, wind, and waves; producing dramatic shorelines featuring sandstone cliffs, sea caves, and miles of pristine sand beaches. The Apostle Islands are at the continental northwestern limit of the hemlock/white pine/northern hardwood forest and the southern limit of the circumpolar boreal forest.
Humans have used the Apostle Islands for hundreds, if not thousands, of years. Many Ojibwe Indian legends are associated with them. Voyageurs established trading posts on the islands, and later settlers built seasonal hunting and fishing camps, summer cabins, farms, and homesteads. These people used the resources of the islands and the adjacent waters for their commercial potential - forests were logged, brownstone quarried, and commercial fisheries were established. Light stations were built in the 1800s to guide approaching ships.
Apostle Islands National Lakeshore was established on September 26, 1970, "to conserve and develop for the benefit, inspiration, education, recreational use, and enjoyment of the public" 20 of the 22 islands in the group, as well as a 12 mile strip of shoreline on the mainland. Long Island was added to the lakeshore in 1986. The national lakeshore encompasses a 720-square-mile area on the Bayfield Peninsula and in Lake Superior. This includes 69,372 acres, of which 42,140 acres is land above the high water line. 2,568 acres are on the mainland. The rest of the acreage is on islands ranging in size from tiny 3 acre Gull Island to 10,054 acre Stockton Island. The islands range in height from about 10 feet (Gull Island) to 479 feet (Oak Island) above the lake level. The Apostle Islands display a rich assemblage of scenic features, natural and cultural resources. These values, recognized by the area's earliest visitors, make it worthy of protection as a national lakeshore.
Last updated: April 10, 2015