Please Pardon Our Mess!
We know how disappointing a "Closed for Renovation" sign can be. We're hoping any inconveniences you have this summer will be rewarded by great visitor experiences in the future. While the park will work to minimize public inconvenience during the light station repair work, there will be some necessary closures for public safety and to allow workers access to the light stations. Some buildings will be closed to visitation while work is in progress, as will the adjacent grounds. In some cases lighthouse dock closures may also be required for visitor safety and to guarantee dock space for the work crews and materials.
We apologize in advance for any inconveniences, and if you plan on visiting Sand or Outer light stations in 2015, you should be aware of construction-related closures that will be in place. Watch for updates and "behind the scenes" construction photos on the park's Facebook page!
Here are the anticipated dates for construction, which will result in partial or full closures to the light stations and in some cases the adjacent docks. These dates are subject to change.
Sand Light Station (including grounds): June 22 through August 30

Outer Island Light (dock may be closed as required): June 15 through August 30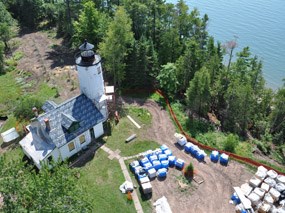 Home Stretch: Last Season for the Light Station Preservation Project
Fans of Lake Superior's historic lighthouses will be glad to know that the "lights of the Apostles" are receiving a lot of tender loving care.
More...
Last updated: July 10, 2015