Michigan Island Lightstation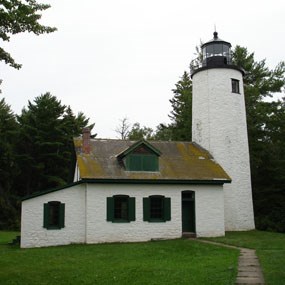 There are two light towers at Michigan Island. One was supposed to be built somewhere else and the second originally was elsewhere!
In 1856, a Milwaukee contractor's crew came to the Apostle Islands with instructions to build a lighthouse. Plans originally called for the lighthouse to be built on Long Island, to guide ships to the port of LaPointe, on Madeline Island. However, for reasons that are not completely clear, a Lighthouse Service official ordered a last-minute change of plans, and the lighthouse was built on Michigan Island, instead. Made of rough stone, its exterior walls stuccoed and whitewashed, the new lighthouse combined a small, one-and-a-half-story keeper's dwelling with a low, conical light tower.
The light on Michigan Island entered service in the spring of 1857, but was closed after only one year of operation. Evidence suggests that higher authorities in the Lighthouse Service repudiated the rash decision of their field representative, and ordered the hapless contractors to go back and erect a new lighthouse at the planned Long Island location.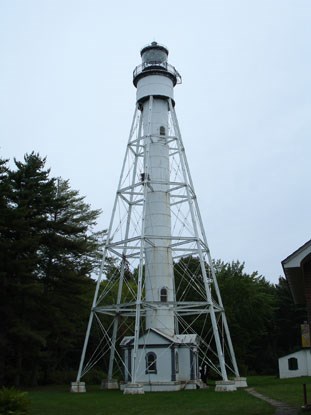 For more than a decade, the Michigan Island tower sat vacant, and in the harsh Lake Superior climate, it quickly began to deteriorate. In 1869, however, authorities decided that a lighthouse on Michigan Island might actually be useful, so $6000 was appropriated to repair the building and relight the light. The refurbished light was equipped with a three-and-a-half order Fresnel lens.
Fifty years later, an effort began to place the Michigan Island light in a higher tower. When the Lighthouse Service discontinued operation of the Schooner's Ledge light on Pennsylvania's Delaware River near Philadelphia, the cylindrical steel tower was disassembled and brought to Wisconsin. Originally built in 1880, the tower was transported to Michigan Island in 1919, where it sat on the beach, awaiting assembly, for another ten years.
The light station experienced a series of improvements in 1928 and 1929. A brick building was constructed to house an electric generator, a radio fog beacon, and a hoist engine for a tramway; a new keeper's dwelling was added; and the relocated tower was finally assembled. At 112 feet in height, the new tower became the tallest lighthouse in Wiisconsin.
Ed Lane was the lightkeeper at Michigan Island from 1901 until he retired from the U.S. Lighthouse Service in 1939. This is the longest period of time that any keeper spent at a single Apostle Islands light station. On October 29, 1929 Ed noted in the lighthouse logbook,
"Put window shades and worked in old tower. Started up new tower at sunset. Everything in good shape, but station looked odd, the old tower being dark for the first time in navigation in 60 years."
The Michigan Island light was automated in 1943. The Fresnel lens was removed from the tower in 1972 and is now on display in the National Lakeshore Visitor Center in Bayfield.
Visiting the Light Station
Visiting Michigan Island can be a challenge. Only the most experienced private boaters and sea kayakers should consider attempting a trip to this lighthouse, due to the great distance and exposed location. Even when lake conditions permit approach, the exposed location of the dock often makes landing impossible. Volunteers are usually available for tours between the hours of 9:00 and 11:00 am, and 1:00 pm and 4:00 pm
Last updated: April 10, 2015