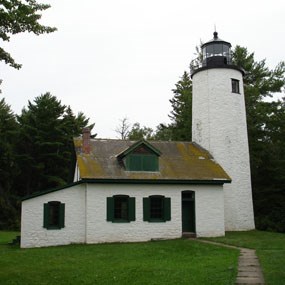 There are two light towers at Michigan Island. One was supposed to be built somewhere else and the second originally was elsewhere!
In 1856, a Milwaukee contractor's crew came to the Apostle Islands with instructions to build a lighthouse. Plans originally called for the lighthouse to be built on Long Island, to guide ships to the port of LaPointe, on Madeline Island. However, for reasons that are not completely clear, a Lighthouse Service official ordered a last-minute change of plans, and the lighthouse was built on Michigan Island, instead. Made of rough stone, its exterior walls stuccoed and whitewashed, the new lighthouse combined a small, one-and-a-half-story keeper's dwelling with a low, conical light tower.
The light on Michigan Island entered service in the spring of 1857, but was closed after only one year of operation. Evidence suggests that higher authorities in the Lighthouse Service repudiated the rash decision of their field representative, and ordered the hapless contractors to go back and erect a new lighthouse at the planned Long Island location.