Home Stretch: Last Season for the Light Station Preservation Project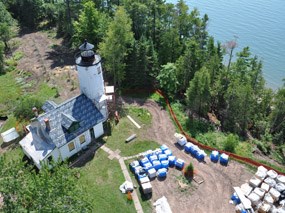 Fans of Lake Superior's historic lighthouses will be glad to know that the "lights of the Apostles" are receiving a lot of tender loving care. The Apostle Islands National Lakeshore multi-year lighthouse preservation project continues into fall of this year, with work continuing at several of the lakeshore's seven historic light stations. At Outer Island Light Station, repairs to the fog signal building and final paintwork on the tower will be taking place. At Sand Island Light, repairs to the lantern, and repainting of the lantern and shutters will be occurring. With help from the Friends of Apostle Islands National Lakeshore, major repairs will be completed at Raspberry Island's historic boathouse. Minor work on buildings and grounds (which is not expected to significantly disrupt visitation) will also be taking place at Michigan, La Pointe, and Devils light stations.
2015 is the final season for this project. Unfortunately, there will be closures at some stations while the work is under way. Here's the outlook:
Sand Light: June 22 through August 30

Outer Island Light (dock may be closed as required): June 15 through August 30

Raspberry Island Light will be open for visitation as usual, although the boathouse will be undergoing repairs. Portions of the dock may be closed for visitor safety.
Last updated: July 10, 2015