Hokenson Fishery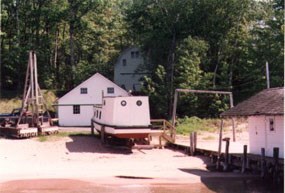 The Hokenson Brothers Fishery stands on the shore of Lake Superior at Little Sand Bay. Operated for more than 30 years by the families of Eskel, Leo and Roy Hokenson, it was an enterprise that started from scratch and eventually prospered due to the Hokensons' resourcefulness, ingenuity and hard work.
The Hokensons' story reads like a history of the Apostle Islands region. The three brothers were sons of Swedish immigrants. They grew up in Bayfield where their father was involved in lumbering and brownstone quarrying. As young men Eskel, Leo and Roy farmed and raised cattle on a family homestead near Little Sand Bay. During this time they fished only to supplement their diets. After several unsuccessful years on the farm the brothers bought three pond nets and began fishing commercially. By the late 1920's the Hokensons were farming during the day and fishing at night. As they honed their skills and realized how profitable fishing could be, they eventually pursued it full-time.
The Hokensons retired in the mid-1960's. Family members remaining in the area have been valuable sources of information about the fishery. Today, the fishery complex is maintained by the National Park Service. Its rustic buildings and historic artifacts are preserved as a museum where visitors can explore this remnant of the past.
Last updated: April 10, 2015