Things To Know Before You Come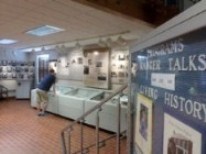 Visiting Appomattox Court House National Historical Park is largely a self-guided experience. For this reason it is recommended that you begin your tour at the visitor center and get a map of the park. The visitor center is in the reconstructed courthouse building. As not all of the park is accessible, please refer to the accessibility page for more information. Depending on the season however, there may be a number of programs offered to help you get more out of your visit. Here are some points to consider when planning your visit.
**The park opens at 9:00 a.m. and there is no admission fee.
Programs/Services available year round:
Museum in the visitor center
Bookstore/gift shop in the Tavern Kitchen
One 15-minute film in the visitor center on the hour and on the half-hour
The Junior Ranger Program is designed to help kids (ages 6-13) have a meaningful interaction with our nation's history. Kids can get a workbook to complete as they tour the park. Once completed, they will receive a parole pass, a set of Appomattox trading cards and a Jr. Ranger badge.
Programs/Services available during the summer:
Living History talks are presented, often at 50 minutes after the hour. These programs are presented by actors who portray people who were here in 1865, and who speak as though it is still 1865. These programs continue through the fall when possible. For additional information about these living history presentations click here.
Ranger Programs are also offered to help answer the question, "Why Appomattox?" These often last about 30-minutes and begin in the visitor center.
Please check the Calendar of Events for special programs that are offered.
There are no lodging or eating facilities within the park. There is a set of picnic tables to the right of the flag pole as you enter the park. For names and locations for eating and lodging facilities within the Appomattox area please click here.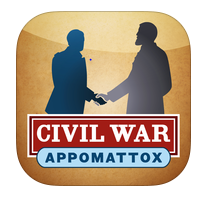 Civil War Trust App for Appomattox Court House
To get more out of your visit, download the Civil War Trust app before your visit. Due to connectivity, it is very time consuming and in some cases impossible to do this after you get to the park.
The Appomattox Battle App is the perfect Civil War touring partner for your exploration of the Civil War landscape at Appomattox Court House. Our GPS-enabled touring application will guide you to all the historic spots on the battlefield, the town, and where the Army of Northern Virginia surrendered. This app can be downloaded to your IPhone by going to https://itunes.apple.com/us/app/appomattox-battle-app/id615430358?mt=8. The android app can be downloaded by going to https://play.google.com/store/apps/details?id=com.neotreks.battleapps.appomattox&hl=en
Last updated: June 25, 2018