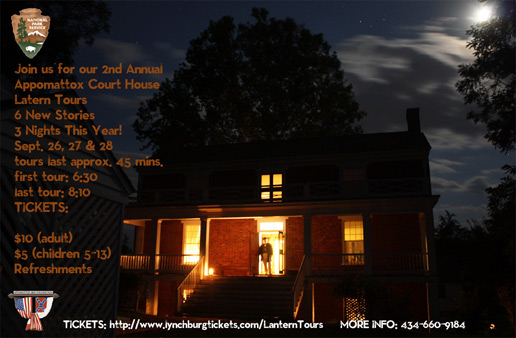 2013 Lantern Tours presented by the Appomattox 1865 Foundation
Have you ever seen the village after dark?
The park is pleased to present the 2nd Annual Appomattox Court House Lantern Tours to take place on the evenings of September 26, 27, and 28. There will be 6 new stories this year. Each tour last about 45 minutes and new tours begin every 20 minutes beginning at 6:30. The last tour begins at 8:10 p.m. Tour sizes are limited and purchased tickets are required. The money raised will benefit the park's friends group, the Appomattox 1865 Foundation. The Foundation raises money for park approved projects that include, but are not limited to educational programming, building preservation, new exhibits, landscaping, and much more. More can be learned by visiting the Appomattox 1865 Foundation's website.
Tickets for the Lantern Tours are $10/adult, $5 for children 5-13. If interested you are encouraged to purchase tickets in advance. (This event sold out last year.) You may purchase tickets on-line, or call for more information, 434-660-9184.
We hope you can come out for a fun night to see the village in a "different light" while supporting a great cause.