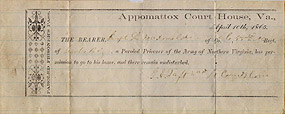 The Parole Passes of Appomattox Court House
As directed by General Grant, 28,231 parole passes were issued to Lee's troops after the surrender of the Army of Northern Virginia to show that those Confederate soldiers were paroled prisoners of war with the right to travel home. For the men surrendered at Appomattox Court House, their parole passes marked an end to perhaps the most important chapter in their lives. These passes assisted the former Confederates in many ways during their trips home. Many of the passes survived because they became cherished tangible evidence that the bearer had been among the steadfast at Appomattox.
A number of original parole documents are on permanent exhibit in the Clover Hill Tavern in Appomattox Court House NHP, the actual site of their printing in the days immediately following the surrender. An alphabetical listing of names of the soldiers who received passes may be viewed by clicking here.