Appomattox Court House Podcasts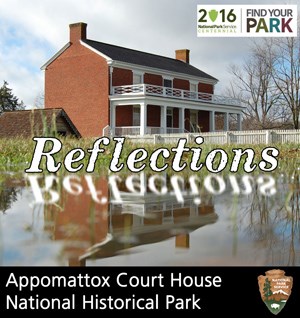 Appomattox Court House National Historical Park Podcasts are designed to let you listen in on some in depth conversations about some of the most important topics related to the surrender at Appomattox. Hear the long time park historian, curator, and other members of the interpretive staff answer some of the tougher questions about the last days of the Army of Northern Virginia. Download these podcasts and pick a time when you're ready to join Park Guide James Drass, your host for Appomattox Reflections.
To listen to, or download Appomattox podcasts, please scroll the list below. The first podcast is entitled, "Why Appomattox" and is the first in what will be a series of podcasts that are being released in 2016.
"Why Appomattox"

Listen to an in depth discussion about how and why the armies of Gen. Lee and Gen. Grant got to Appomattox and how Gen. Lee was brought to the decision to surrender the Army of Northern Virginia.

Duration:

1 hour, 35 minutes, 56 seconds

Credit / Author:

Jame Drass

Date created:

2016-04-08
"Joel Walker Sweeney"

Who was Joel Walker Sweeney and what were his contributions to American music?  He popularized the 5-string banjo, but how he did it and it's impact on American music deeply reflect the American story itself.  We know what happened at Appomattox Court House in 1865, but learn about one of the village's native sons who lived here before the Civil War.

Duration:

50 minutes, 54 seconds

Credit / Author:

James Drass

Date created:

2016-05-04
Thomas Tibbs

A native of Appomattox Court House, Thomas Tibbs surrendered in the village where he grew up, but that was not the end of his story. Join us as we discuss his amazing story and his connection with George Armstrong Custer.

Duration:

1 hour, 4 minutes, 53 seconds

Credit / Author:

James Drass

Date created:

2016-07-05
Stacking of Arms

The Stacking of Arms was a ceremony where the Confederate Army of Northern Virginia surrender their rifles and flags.  This occurred on April 12, 1865 along the Richmond/Lynchburg Road which is the main road going through Appomattox Court House.

Duration:

59 minutes, 1 second

Credit / Author:

James Drass

Date created:

2016-12-12
Going Home

This audio tells the story of soldiers going home after the surrender at Appomattox Court House.

Duration:

1 hour, 16 minutes, 31 seconds

Credit / Author:

James Drass

Date created:

2016-03-03
The Surrender at Appomattox

An audio describing the surrender meeting at the Appomattox Court House as narrated by James Drass

Duration:

1 hour, 33 minutes, 25 seconds

Credit / Author:

James Drass

Date created:

2016-12-13
Last updated: August 24, 2018