News Release
August Healthy Parks Healthy People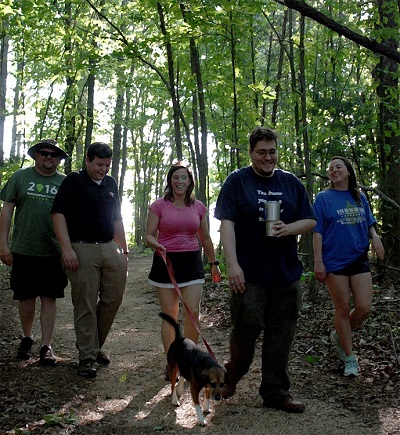 News Release Date:
July 31, 2017
Contact: Robin Snyder, 434-352-8987 Ext. 222
Appomattox Court House National Historical Park and six Virginia State Parks in the Central Virginia Region have created the Healthy Parks, Healthy People program for community members and park visitors. The initiative encourages people to spend more time recreating outdoors on their public lands. The program is a partnership of seven parks including Appomattox Court House National Historical Park, Bear Creek Lake State Park, High Bridge Trail State Park, Holliday Lake State Park, James River State Park, Sailor's Creek Battlefield Historical State Park, and Twin Lakes State Park.
To Participate:
Visit one of the seven parks Visitor's Center's and pick up a Healthy Parks Healthy People passport booklet. These booklets contain information about the trails at the seven parks, as well as to hold your stamps.
Walk one of the trails at the park, and stop in the Visitor's Center to receive a stamp specific to that park in your passport booklet.
Visit each of the parks, walk a trail, and receive a stamp to complete your booklet.
Mail the completed Healthy Parks Healthy People booklet to …., or email a picture of your finished booklet to …..
Once submitted, you will receive a commemorative patch to recognize you walked at all seven parks, and be entered into a drawing for special prizes, including a National Park Pass and a Virginia State Parks Pass
The Healthy Parks Healthy People partnership's mission is intended to showcase healthy recreational opportunities on public lands in Central Virginia, to increase awareness of the national and state parks, encourage stewardship of these special places, and promote the park's importance in tourism and economic development in their communities.
Special Events:
All seven participating parks are additionally holding special events to promote the Healthy parks Healthy People project. Check our website and Facebook page for upcoming events. Make sure to check the State Parks websites for events at the other six parks.
The official press release for the August events may be viewed 
here
.
Last updated: October 16, 2017