News Release
2018 Sweeney Festival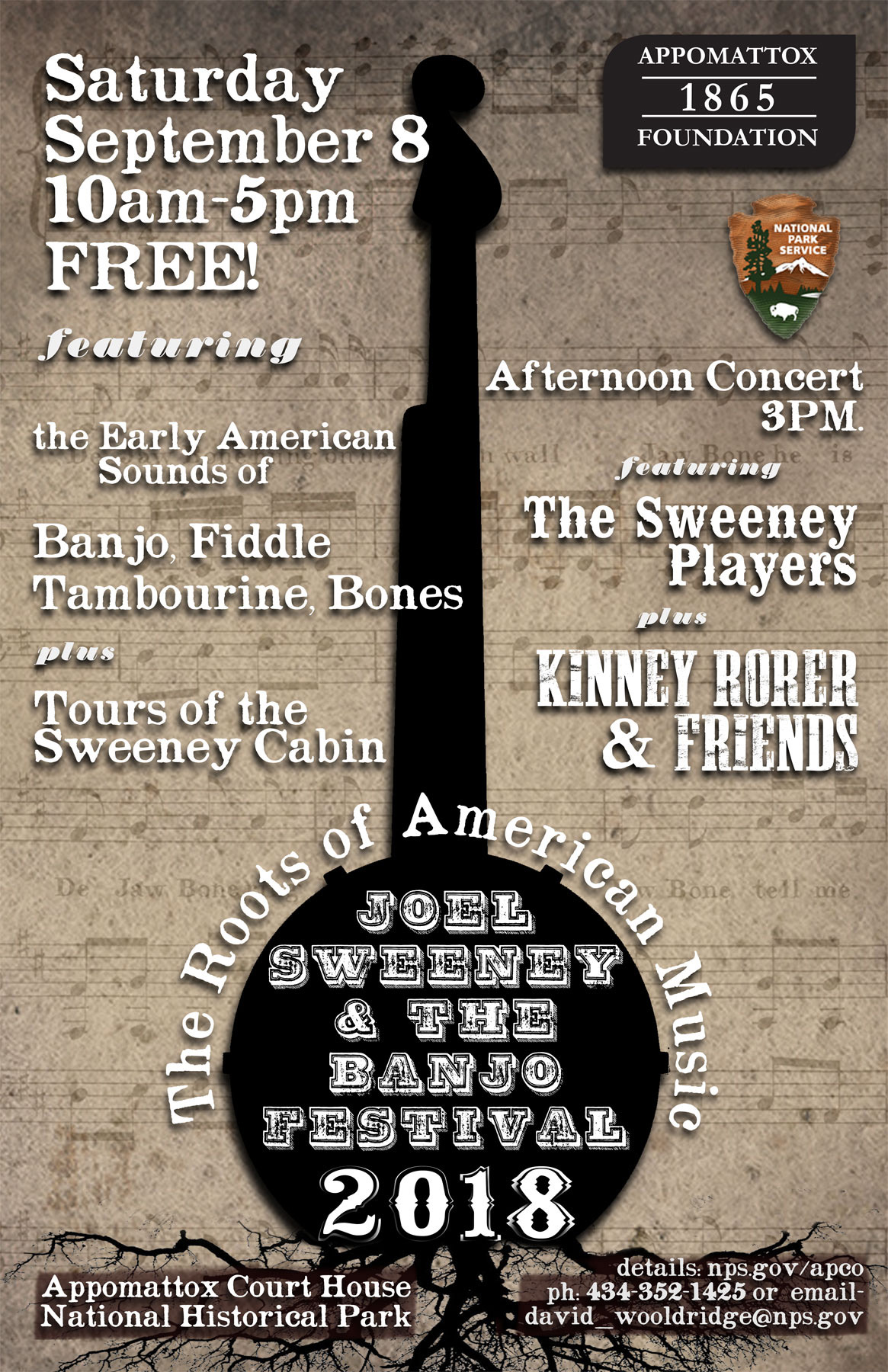 News Release Date:
August 15, 2018
Contact: David Woolridge, 434-352-8987 ext 233
August 9, 2018                                                                                     Contact: David Wooldridge
Release Date: Immediate                                                                     Phone No: 434-352-8987 x233
Celebrate the Origins of American Popular Music
at the Joel Sweeney and the Banjo Festival
Appomattox, VA – Appomattox Court House NHP, the Appomattox 1865 Foundation, and the North Carolina School of Traditional Music will feature the 5th Annual Joel Sweeney and the Banjo Festival at the park on Saturday, September 8th from 9 a.m. until 5 p.m. The day will be filled with music that reflects the legacy and influence of Joel Sweeney and the banjo in American popular music. 
The primary focus of the day-long event is to feature banjo music throughout the village. 
To complement the music, educational stations will share stories of Sweeney and the early banjo. The day will also include a specialized tour of the Charles Sweeney (cousin of Joel) Cabin also located inside the park and just outside the village. The Appomattox 1865 Foundation raised $25K for the recent completion of the restoration of the cabin. The afternoon will culminate with a concert by all the participating musicians of traditional, "Sweeney Style" music in the shadows of the Clover Hill Tavern in the heart of Joel's hometown.
The schedule is as follows:
9 – 10 a.m.:                       Early banjo music performances on the Clover Hill Tavern Porch
10 a.m. – 12:00 p.m.:        Walking tour of the Charles Sweeney Cabin
Noon:                                The Joel Sweeney Proclamation Reading and Performances on the Tavern Porch.
1 – 2 p.m.:                         Early Banjo Performances throughout the Village.
2 – 3p.m.:                         The Banjo: America's African Instrument – Laurent Dubois
3:00 – 4:30 p.m.:               Afternoon Concert by the Sweeney Players (and others) at the Clover Hill Tavern
The Sweeney Players consists of musicians from the North Carolina School of Traditional Music and friends who specialize in playing Sweeney era songs. Among this group are performers who have been instrumental in establishing the banjo festival in the Park.
Join us for this free day of entertainment and a step back in history to explore a different story of the Park. 
Because Joel Sweeney was born, lived, died, and is buried in what is now Appomattox Court House National Historical Park, the park is uniquely situated to host the Sweeney musical festival in his home village.

A PDF of this news release is
available.
UPDATED SCHEDULE
Last updated: September 7, 2018