News Release
2018 Civil War Camp at Appomattox Court House NHP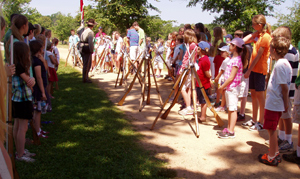 News Release Date:
May 29, 2018
Contact: Brandon Chamberlain, 434-352-8987 ext 231
May 29th, 2018                                                                         Contact:
Brandon Chamberlain
Release Date: Immediate                                                         Phone No: 434-352-8987 Ext. 231
Appomattox Court House National Historical Park
Announces the 2018 Civil War Summer Camp
Appomattox, Va. - Children ages 8 to 13 are invited to walk in the steps of a Civil War soldier during two summer camps at Appomattox Court House NHP and the American Civil War Museum in Appomattox. During the month of June, children may participate in one of the two, 2-day camps. Each camp begins at 9 a.m. and ends at 2:30 p.m. The Civil War Summer Camp Dates are June 18 – 19 for participants ages 8-10; and June 20-21 camp for participants ages 11 – 13.
Each summer camp is a two-day event that allows children to take part in a wide range of activities related to the Civil War. On the first day, participants will visit the American Civil War Museum in Appomattox where they enlist in either the Union or Confederate Army. They will also learn about the life of a Civil War Soldier including their equipment, rations and medical treatment. They will spend the next day in the Park as soldiers learning about Civil War arms and tactics with costumed interpreters. These camps are held on two successive days and are not an overnight event. Price is $10 per child and includes admission to the museum, a camp T-shirt and kepi.
To register, check out the park's website at:
www.nps.gov/apco
and follow the links for the Summer Camps 2018 at the bottom of the page. For more information, contact Brandon Chamberlain at 434-352-8987 ext. 231 or email e-mail us.
About Appomattox Court House
National Historical Park:
On April 9, 1865, the surrender of the Army of Northern Virginia in the McLean House in the village of Appomattox Court House, Virginia signaled the end of the nation's largest war. The stories of Appomattox Court House go far beyond the final significant battles of this nation's Civil War. Learn more at
www.nps.gov/apco
.
About the National Park Service. More than 20,000 National Park Service employees care for America's more than 400 national parks and work with communities across the nation to help preserve local history and create close-to-home recreational opportunities. Visit us at
www.nps.gov
,
on Facebook
www.facebook.com/nationalparkservice
, Twitter
The press release can be viewed
here
.
Last updated: June 6, 2018