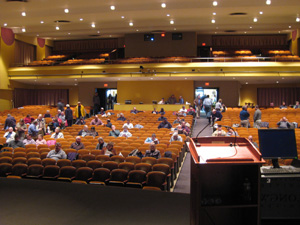 News Release Date:
February 16, 2013
Contact: Patrick Schroeder, 434-352-8987 x.232
Contact: Dr. David Coles, 434-395-2220
8:45 a.m.        Doors open
9:10 a.m.         Introduction by Dr. David Coles, Associate Professor and Chair, Department of History, Political Science, and Philosophy, Longwood University
9:15 a.m.         Frank O'Reilly Chancellorsville
10:15 a.m.       Robert Krick, Sr. Smoothbore Volley that Doomed the Confederacy: The MortalWounding of Stonewall Jackson
11:15 a.m.       Dr. Charles D. Ross Civil War Acoustic Shadows

12:30 p.m.
Lunch
1:45 p.m.
Troy Harman
Gettysburg: A Naturally Suitable Place for Battle
2:45 p.m.         John S. Heiser Gettysburg: The Great Reunion of 1913

Brief bios on each of the speakers.

No reservations necessary.Signs will be posted on the Longwood University Campus. For directions to the campus go to www.longwood.edu. For more information contact Dr. David Coles at 434.395.2220 or Patrick Schroeder at 434.352.8987, Ext. 232.