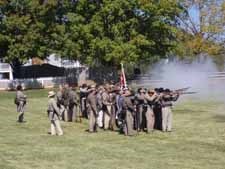 Living history is an important part of our programming here at the park. The park's own staff provides first-person historic character programs typically from April-October. September's schedules is available online, as well as October's and November's.
Brief descriptions of the 1865 characters are also available.

Persons interested in volunteering to participate in these programs should contact our Volunteer Coordinator, Alyssa Holland at e-mail us or 434-352-8987 ext. 234.
We welcome partnerships with re-enactment groups, both civilian and military. Those groups wishing to come to the park for living history events should contact the Historic Weapons Supervisor, Brandon Chamberlain at e-mail us or 434-352-8987 ext. 231.
The park hosts two principal living history weekends a year: one near the anniversary of the surrender in mid-April; the other the second weekend in October. Additional events may also be scheduled with the park.
As education is our park's primary mission, we try to schedule a full weekend of diverse activities and events for our visitors. Generally, we like to offer several weapons demonstrations, and re-enactment of the Stacking of Arms Ceremony. Other non-military programs are also welcome, such as period music, medical programs, and camp activities such as inspections, issuing rations, etc.