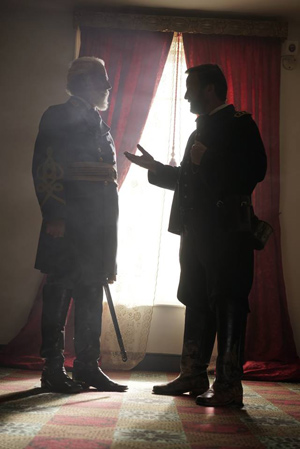 Sesquicentennial Events
The sesquicentennial at the Park was centered around real time commemorative events from April 8 - April 12, 2015. Below are links to videos and photo albums of some of those events meant to give a sense of the event. We thank CSPAN3 for their coverage and they are responsible for several of the video clips.
April 9
Commemorative Event at the McLean House, 1:30 - 3:10 p.m. This program included the unveiling of two U.S. Postal stamps (including one of the surrender), keynote remarks by Dr. Ed Ayers, Park Historian Patrick Schroeder, and others. There is also the recreated scene of Gens. Lee and Grant exiting the McLean House signalling that the surrender meeting was over, at the precise time that it happened 150 years earlier.
April 12
Afternoon April 12 "After Appomattox" program with Dr. David Blight and NPS Historian John Hennessy discussing Appomattox as not only the end of something, but also the beginning of another difficult chapter in our nation's history.

---
For a complete list of park events, program descriptions, and event and parking maps,
please download the special 150th Anniversary Commemorative Events Guide.
pdf
---
For a complete list of Appomattox Events (park and town of Appomattox), parking and shuttle information, media passes, and maps,
please visit the Appomattox County, VA website.
---
For a complete list of park social media sites,
please click here
. Be sure to use the hashtag
#APX150th
for all your social media postings about the Appomattox Sesquicentennial events to help spread the word about all programs at the park and throughout the area.