The Final Attack Trail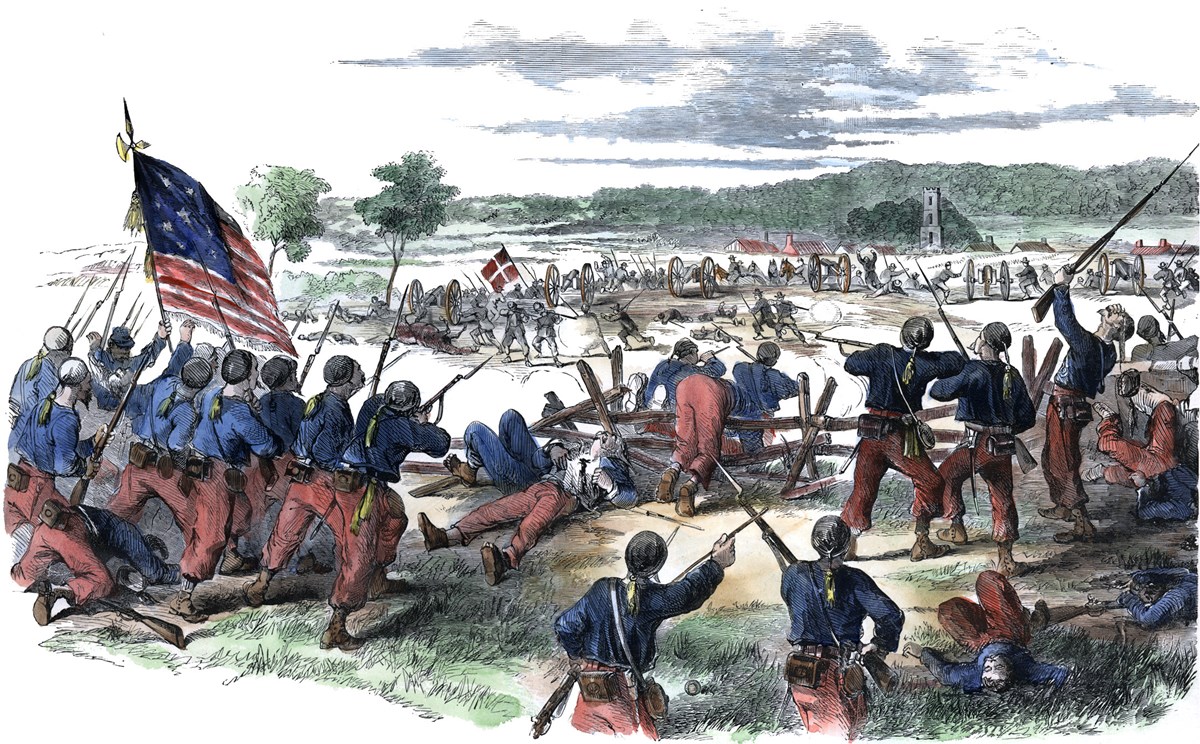 Trail Map
The trail map below shows the Final Attack Trail, current woodlots and the location of the historic 40-Acre Cornfield.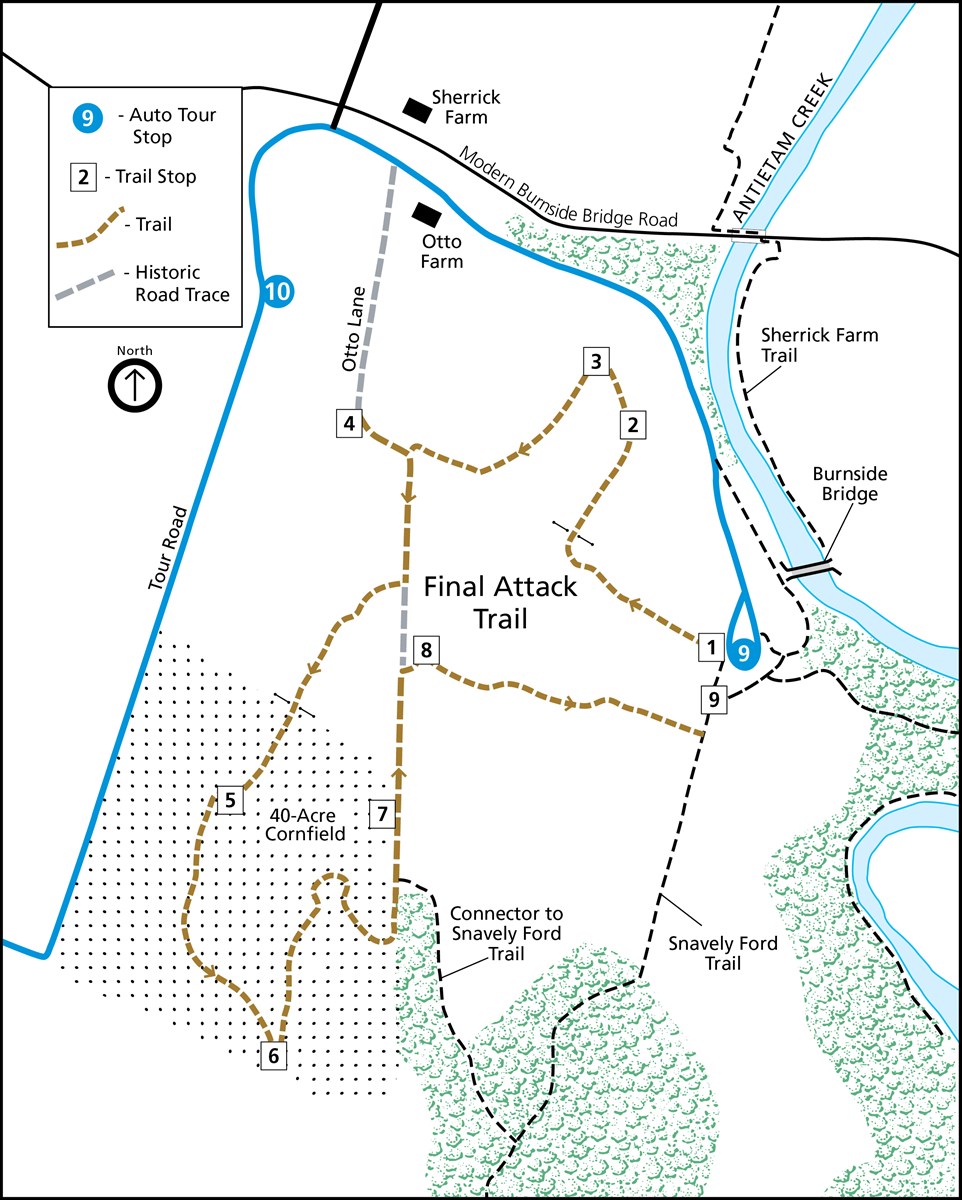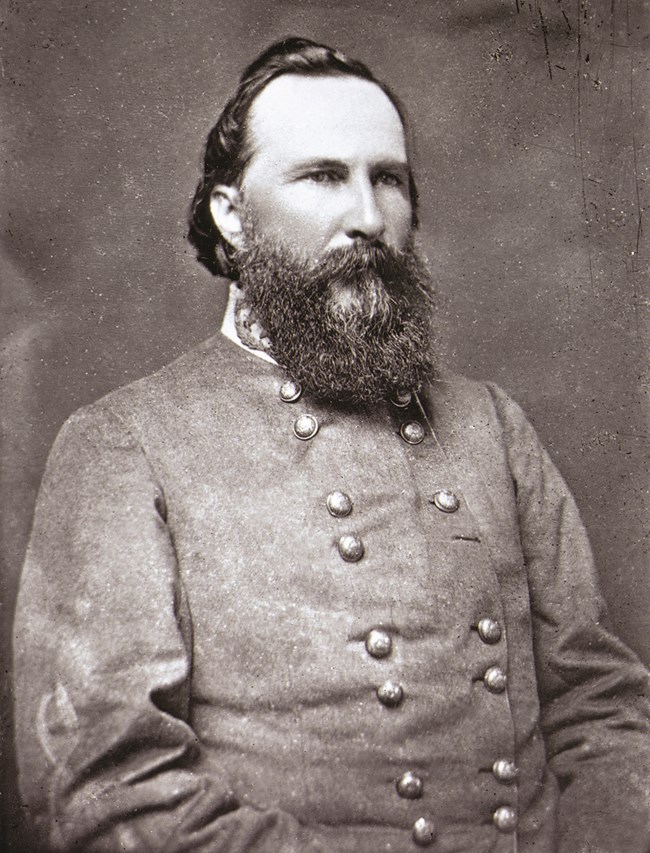 Stop 1 - Parking Area at Driving Tour Stop 9
The Final Attack Trail begins at Auto Tour Stop 9. The trail is 1.7 miles in length and takes 60 to 90 minutes to walk. The terrain is rolling and the trail can be uneven, so good walking shoes are recommended and please stay on the trail.

In this part of the battle, which lasted from 3:00 p.m. to 5:30 p.m., there were five times as many casualties than there were in the action at the Burnside Bridge. Two Generals were killed and Colonel Harrison Fairchild's Brigade of Union soldiers suffered the highest percentage of casualties for any brigade in the Union army at the Battle of Antietam. These final two and one half hours of combat concluded the twelve hour struggle that still ranks as the bloodiest one-day battle in American history.

As you stand at the start of the trail imagine that it is September 17, 1862 and about 3:00 in the afternoon as you look west into the afternoon sun. There had been a three hour struggle for possession of the crucial Antietam Creek crossing behind you. Finally the Confederates retreated from this high ground defending the bridge.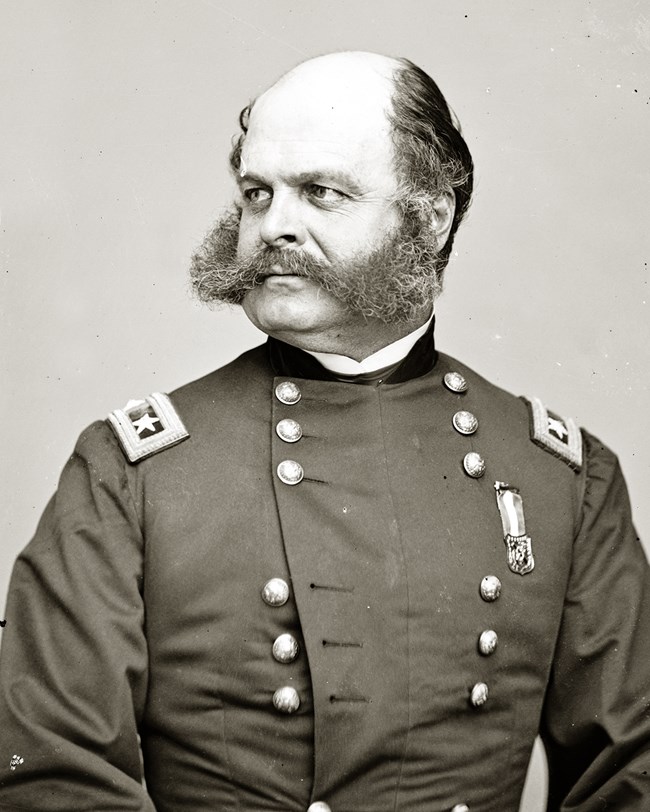 For two hours thousands of sweat stained, clanking, blue clad soldiers tramped by to your left and right in preparation for the final advance to drive Robert E. Lee's Confederate army from Maryland. Approximately 8,000 Union soldiers would resupply and reorganize into a mile wide line of battle and advance across the ground that you will walk.

Things have quieted down on the north end of the battlefield, but the artillery in front of and behind you is still banging away as another battery of guns rumbles past with horses straining to pull their heavy load. Ahead is unknown, but you are sure the enemy is still there, and this might be your last day.

View the Union Order of Battle
View the Confederate Order of Battle
Stop 2 - Advance on Sharpsburg
The next two stops provide exceptional views of the Antietam Valley and the series of ridges and farms that the 9th Corps advanced across. At Stop 2 you are facing mostly east. Antietam Creek is at the bottom of the hill below you and the Burnside Bridge is 300 yards to your right. The Union 9th Corps gathered behind the hill on the other side of Antietam Creek and made their assaults on the bridge.

Once the Burnside Bridge was taken, about 8,000 Union soldiers gathered on this side of the creek, many of them moving up the creek valley below you toward Sharpsburg. One other key feature is the cleared ridge line at the base of the mountain to your front right about ½ mile away. This was a crucial Union artillery location, where up to 24 guns dueled with Confederate artillery to the west.

As you continue on the trail toward Stop 3, you are heading in a more westerly direction.

EYEWITNESS - We heard all through the war that the army was eager to be led against the enemy, but when you came to hunt for this particular itch, it is always the next regiment that had it. The truth is, when bullets are cracking skulls like eggshells, the consuming passion in the breast of the average man is to get out of the way. Between the physical fear of going forward and the moral fear of turning back, there is a predicament of exceptional awkwardness from which a hidden hole in the ground would be a wonderfully welcome outlet.
Private David L. Thompson, 9th NY Infantry, Fairchild's Brigade
Stop 3 - Sherrick Farm
Notice the stone Observation Tower at the Sunken Road to the north. To the west is the modern water tower on the edge of Sharpsburg. In the valley in front of you is the Sherrick Farm. The farm was built in the 1830s by Joseph Sherrick Jr. and was leased to Leonard Emmert at the time of the battle. The Mumma family, whose farm on the north end of the battlefield was destroyed during the battle, moved into the Sherrick house while they rebuilt their farm. On the high ground behind the brick Sherrick house, marked by the tall evergreen trees, is the National Cemetery. Dedicated after the battle in 1867, this dominant ground was a farm field at the time of the battle. Confederate artillery was positioned there to take full advantage of this commanding piece of terrain. In fact, several of the guns were aimed directly at the ground you are standing on.
Extending south (left) from cemetery hill was Brig. Gen. David R. Jones' Division with approximately 2,800 men. The rest of the Confederates on this end of the battlefield were moved north during the morning's action.

You are standing at about the center of Burnside's battle line. Rodman's Division on your left. Wilcox's Division extends almost 1/2 mile to your right (north). Scammon's and Sturgis' Divisions were in support. After suffering a withering artillery barrage, the 9th Corps began their advance about 3:00 p.m.

From here the trail continues west and down towards the historic Otto Lane. You are walking in the footsteps of the Union advance.
Go to part 2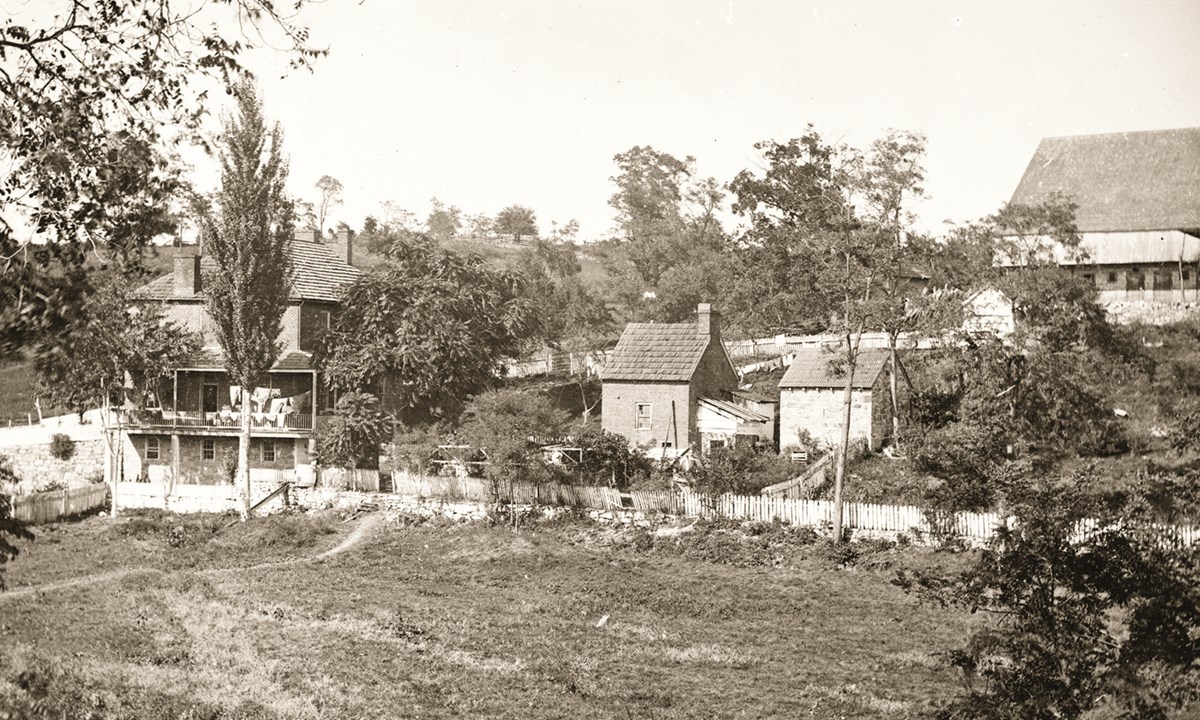 Last updated: February 2, 2021