Antietam National Cemetery, part 2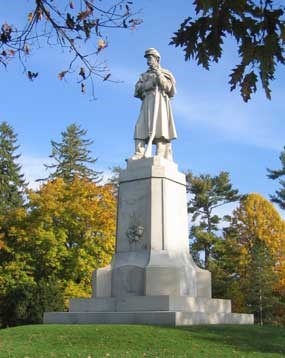 Private Soldier Monument
The colossal structure of granite standing in the center of the cemetery reaches skyward 44 feet-7 inches, weighs 250 tons, and is made up of 27 pieces. The soldier, made of two pieces joined at the waist, depicts a Union infantryman standing "in place rest" facing homeward to the north. The soldier itself is 21½ feet tall and weighs about 30 tons. Designed by James G. Batterson of Hartford, CT, and sculpted by James Pollette of Westerly, RI, for a cost of over $32,000, the "Private Soldier" first stood at the gateway of the Centennial Exposition in Philadelphia, PA, in 1876. It was disassembled again for the long journey to Sharpsburg.
On September 17, 1880, the statue was finally in place where it was formally dedicated. The journey of "Old Simon," as he is known locally, had been delayed for several months when the section from the waist up fell into the river at Washington, D.C. When retrieved, it was transported on the C&O Canal, and dragged by using huge, wooden rollers through Sharpsburg to the cemetery. The inscription on the monument reads, "Not for themselves, but for their country."
Click for larger image of the monument.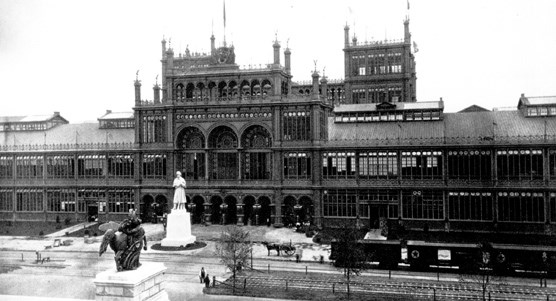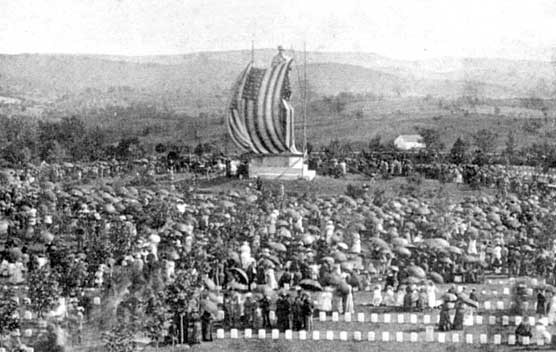 Veteran Superintendent
George Fisher was the last Civil War veteran to hold the postion of Superintendent of the Antietam National Cemetery. He was from Hagerstown, Maryland and had quite a distiguished career.
The Cemetery Today

Antietam National Cemetery is one of the 130 cemeteries of the National Cemetery System, a system that began during the Civil War. There are 4,776 Union remains (1,836 or 38% are unknown) buried here from the Battle of Antietam, South Mountain, Monocacy, and other action in Maryland. All of the unknowns are marked with small square stones. These stones contain the grave number, and if you look closely on a few stones, a small second number represents how many unknowns are buried in that grave. There are also a few of the larger, traditional stones that mark unknown graves.
In addition, more than 200 non-Civil War dead are also buried here. Veterans and their wives from the Spanish-American War, World War I and II, and Korea were buried here until the cemetery closed in 1953. Recently an exception to the closure was made for the burial of Keedysville resident Patrick Howard Roy, United States Navy. Fireman Roy was killed during the attack on the USS COLE and was buried in the Cemetery on October 29, 2000.
If you walk to the back of the cemetery you will notice a few separate graves. Ironically, on the battlefield that led directly to Abraham Lincoln's Emancipation Proclamation, African-American graves from WWI were segregated to this out-of-the-way corner.
Map of the National Cemetery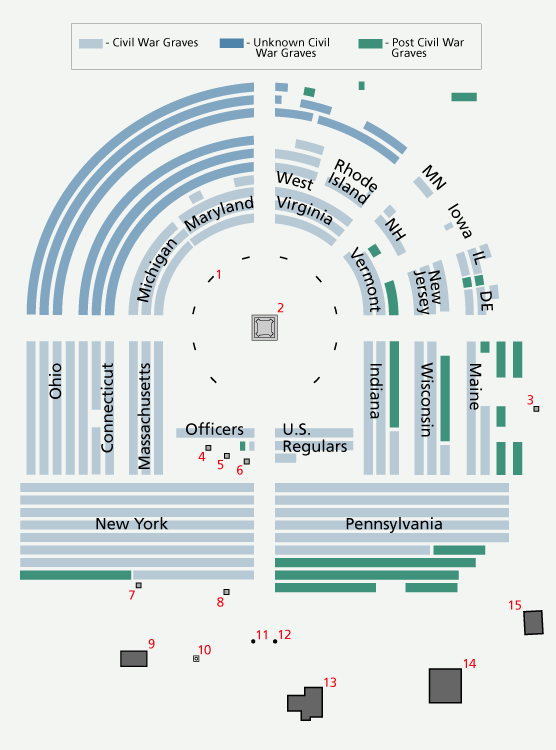 | | | |
| --- | --- | --- |
| 1 - Iron Tablets with poem "Bivouacs of the Dead" | 2 - Private Soldier Monument | 3 - Monument to Company F, 1st Regiment U.S. Sharpshooters |
| 4 - Grave of MD Congressman Goodloe Byron | 5 - Monument to 20th N.Y. Infantry | 6 - Grave of Civil War Brigadier General Jacob Duryee |
| 7 - Monument to four Union soldiers found in 1988 | 8 - Monument to 4th N.Y. Infantry | 9 – Rostrum |
| 10 - Flag Pole | 11 - Smoothbore 24-pounder Naval cannon barrel captured at Harpers Ferry | 12 - Rifled 20-pounder cannon barrel found at the base of Elk Ridge |
| 13 - Lodge Building | 14 - Cemetery Superintendent's quarters, now the park headquarters | 15 - Mule Barn |


Last updated: January 29, 2018