Adopt-a-Cannon
"A savage continual thunder that cannot compare to any sound I ever heard."
Pvt Charles Johnson at Antietam
More than 500 cannon were used at the Battle of Antietam. Because of the destructiveness of these weapons, the battle was nicknamed "Artillery Hell" by the participants. The rolling hills of Sharpsburg provided a highly effective setting for the artillery of both sides. The numerous ridges made excellent locations for cannons. Meanwhile, the infantry of both sides made easy targets as they marched across low-lying, open fields nearby. Posted on the ridgelines, the cannoneers devastated the soldiers in the swales below them. The landscape and the heavy reliance on artillery by both sides made Antietam one of the most significant artillery battles in the Civil War.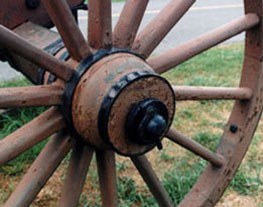 The Adopt-a-Cannon program is intended to raise funds for the restoration of the Battlefield's artillery carriages. The current artillery pieces were placed on the battlefield in the late 1950s and early 1960s. In order to withstand the elements, the carriages were constructed of cast iron rather than wood, which they were historically. The 41 carriages are showing the effects of time and the environment and we need the publics help to restore these pieces.
A contractor will sand blast the carriages to bare metal and apply a primer. Any missing parts will be replaced and then the entire carriage will be painted by the Battlefield staff. The cost will vary but is expected to be between $1200 and $1800 per carriage.


Adopt-a-Cannon is a way for people to make a meaningful contribution--from a penny, to a dollar, to hundreds of dollars. If you or your organization is interested, please contact Bob Casey at (301) 432-4329 or click here to send him an e-mail or make a donation online today.
---
Value the sacrifice and serenity that is
Antietam
Last updated: April 10, 2015