Park Day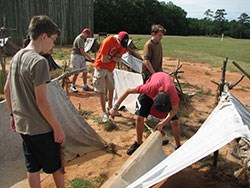 Each year the Civil War Trust sponsors Park Day on the first Saturday of April. This event joins parks and volunteers nationwide for a day dedicated to preserving America's Civil War sites.
Volunteers and park employees will work on rebuilding a replica prisoner shelter in the northeast corner of the prison site and other projects.
For information on volunteering for Park Day, contact the park at 229 924-0343.
Last updated: July 31, 2015