Echotaps to be Sounded in National Cemeteries to Salute Veterans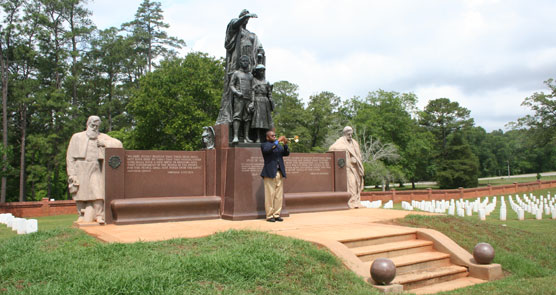 News Release Date:
May 16, 2011
Contact: Eric Leonard, 229 924-0343, ext. 110
Armed Forces Day is Saturday May 21, 2011 and the solemn tune Taps will be sounded at every National Cemetery and U.S. Veterans cemetery worldwide at 11:00 AM. This tribute to veterans is being called EchoTaps and is sponsored by the organization Bugles Across America. Since 1949, the third Saturday in May, has been designated as Armed Forces Day. This day will honor all those who have served and continue to serve in uniform.
The purpose of EchoTaps is to honor and remember our American military veterans through a worldwide musical performance of Taps, foster a new generation of buglers who will play for veterans funerals and raise awareness of our National Cemeteries in the U.S. and overseas. Participating buglers will play Taps beginning at American Battle Monument Commission sites overseas and continuing to various cemeteries across America including National and State Veteran Cemeteries. The National Park Service maintains 14 National Cemeteries including the Andersonville National Cemetery.
The EchoTaps tribute depends on volunteers who can play Taps on any brass instrument. Anyone wishing to participate should contact Cemetery Administrator Kim Douglas at 229 924-0343 or by email at kim_douglas@nps.gov
Andersonville National Historic Site is located 10 miles south of Oglethorpe, GA and 10 miles northeast of Americus, GA on Georgia Highway 49. The site features the National Prisoner of War Museum, Andersonville National Cemetery and the site of the historic prison, Camp Sumter. Andersonville National Historic Site is a unit of the National Park System and serves as a memorial to all American prisoners of war. Park grounds are open from 8:00 am until 5:00 pm with the museum opening at 8:30 am. Admission is free. For more information on the park, call 229 924-0343, visit on the web at www.nps.gov/ande/, or find us on Facebook at facebook.com/AndersonvilleNPS
Resources:
News Release [40KB PDF file]
Photograph 1 [5.34MB JPG file] Caption: Bugler blowing taps at the Illinois Monument in the Andersonville National Cemetery. Photo credit: NPS/Andersonville National Historic Site
Last updated: January 9, 2018