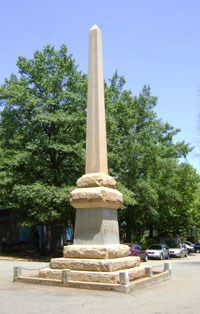 Located outside of the park, in the community of Andersonville, stands a lone monument, a memorial to Captain Heinrich Hartmann Wirz. Wirz served as commander of the Camp Sumter military prison for most of its fourteen months of operation between 1864-65, and was later convicted of murder and conspiracy by a military tribunal. He was hanged in Washington, DC on November 10, 1865. The monument, like the man for whom it is dedicated, was as bathed in controversy during its conception and construction as it is today.
Between 1899 and 1916 sixteen northern states dedicated monuments to the prisoners held at Andersonville. In response to this monument building, and to honor Wirz and to vindicate his name, a site in the town of Andersonville, near the infamous prison, was chosen as the location for a monument to be erected by the United Daughters of the Confederacy. The process for selecting the site of the Wirz monument was a difficult one steeped in controversy. Several arguments ensued over where the monument should be located. Many members of the various chapters within the UDC felt that Richmond, Virginia was the best location, while some thought that Macon or Americus, Georgia would be best. Finally, the selection was narrowed down and Andersonville, Georgia was chosen as the location for the monument. However, not all members agreed with the choice. Many people felt that locating the monument near the ruins of the infamous prison, the National Cemetery, and the monuments erected by the several Northern states to honor their dead, would only serve to engender the greatest bitterness rather than to vindicate the man. Several protests across the country by former Union veteran groups and editorials in northern newspapers, as well as acts of vandalism upon the monument years after it was erected have proven this thought to be true.
Even the inscriptions originally drafted for the monument came under fire. An editorial in one Georgia newspaper felt that making reference to the trial and execution of Captain Wirz as "an illegal court martial" and "a judicial murder" was ill advised.The paper took the position that an inscription that was less provocative be chosen that would still do the deed justice. After much discussion within the UDC, the monument was dedicated by the United Daughters of the Confederacy, on May 12, 1909.
Whether you believe him to be a villain, or a hero, Captain Wirz and the monument dedicated to his memory remain as reminders of a bitter and controversial time in our history that today is still shaping our society.